This article gives a list of 100 best guitar brands all over the world! From this list, you're guaranteed to find a guitar that fits your style, as well as your budget.
Top 10 Electric Guitar Brands
Electric guitar come in diverse shapes and forms. In this article we review the 10 best electric guitar brands that are known and used by guitar players world wide. Then, we will follow with even more electric guitar brands that didn't make into the top 10, but are still very high quality instruments.
1. Fender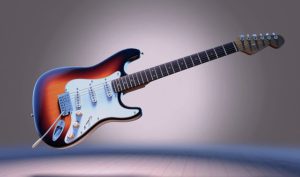 Fender is definitely the best know brand for electrical guitars. It is the 800 pound gorilla in the field.
This is probably the most iconic brand of electric guitars, created by Leo Fender. The well known models include Stratocaster and Telecaster.
Among the many guitars created by Fender, you'll find the classic Stratocaster, which is in my opinion the very definition of electric guitar.
The Fender company has also introduced the Telecaster, the Jaguar, the Jazzmaster, and several other lesser known guitar models.
2. Gibson
Closely following Fender, Gibson is also another classic electric guitar maker that is instantly recognizable by any guitar fan.
This is another iconic guitar maker. Their signature model is the Les Paul guitar.
The Gibson company started more than 100 years ago, and it has created some iconic guitar models that are used by many of the best guitar players.
The best known model of Gibson guitar is the Les Paul, which has been used and copied throughout the industry.
Also Read:
2021 Guide for Best Guitar Under $ 1000 and $ 3000
8 Best Acoustic Guitars Under 200
4 Best Red Electric Guitars for 2021
Find Here the Best, Cheap 12 String Electric Guitars
3. Gretsch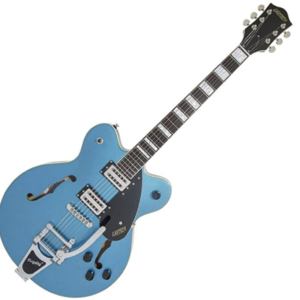 Gretsch is a classic brand that has delivered great instruments to generations of guitar players.
The company was started still in 19th century in New York. The founder was a German immigrant. In the beginning the company produced several instruments, like banjos, drums, etc.
Since then, Gretsch has become one of the top American manufacturers of guitar and other musical instruments. They currently produce electric and acoustic guitars, as well as basses and ukuleles.
Some of the models produced by Gretch include the following.
4. Ibanez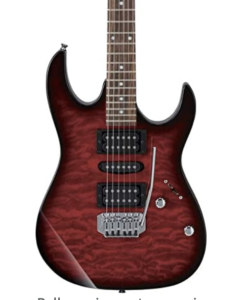 Ibanez is a Japanese maker of electric guitars. They started becoming famous in the 80s, with several successful models.
The Ibanez electric guitar are very well know for the quality, yet at fairly cheap prices.
It is probably the best known guitar produced in Japan, and it is also a great quality product, for an excellent price.
Their guitars have very precise fretboards and scales, making it very easy to setup the instrument. It is a preferred guitar for hard rock and metal players and other guitar players that value speed.
5. Yamaha
Yamaha is another Japanese company that has been very successful in developing musical instruments.
The Yamaha electric guitars are well build and fairly priced. The lines of electric guitars are similar to other well known guitars such as Fender Stratocaster and Gibson.
Yamaha is well known for creating great instruments for cost conscious consumers. You will find several models produced by Yamaha that have excellent craftsmanship, usually for a very reasonable cost.
Yamaha is constantly developing new models and technologies that are easy to use. For this reason, it has remained as a preferred source for new and experience guitar players.
6. Rickenbacker


Rickenbacker is one of the most traditional electric guitar brands. In fact, it can be considered as the brand that started and created the first electrical guitar, back in the 1930s.
The first electric guitar produced was nicknamed the "fry-pan", because it was made of metal.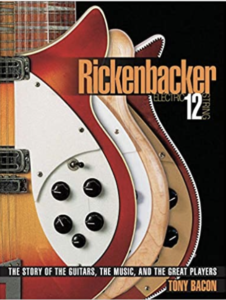 In the initial creation of the A-22 Fry-Pan, the founds of the Rickenbacker company made experiments with several models. This included Spanish guitars (of wood), as well as some solid body prototypes/
These experiments resulted in the creation of a few early models of electric guitars. It must be remembered that the early electric guitars were nothing more than acoustic guitars equipped with ancient pickups.
The best early model developed by Rickenbacker was the Electro-Spanish Ken Roberts. This guitar went to production as a full-scale (25-1/2″) electrified guitar.
Nowadays, Rickenbacker continues to create and commercialize electric guitars.
7. Squier
The Squier brand is nowadays a subsidiary of Fender. They specialize in creating Fender-styled guitars for entry level pricing.
Thus, their instruments are mainly targeted at people who want an entry-level instrument. The typical buyers are students, amateurs, and price in general who want a cheap guitar for practice and fun.
Despite this, Squier instruments have good quality, and can be used even by professionals.
8. Epiphone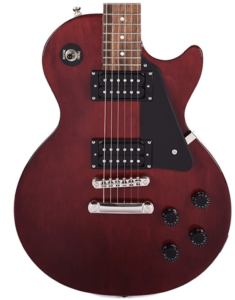 Epiphone is the cheap brand of Gibson. They have a business model similar to Squier and Fender.
The Epiphone guitars are similar to Gibson guitars, but with cheaper prices and less expensive construction. This means that it will use cheaper materials.
The Epiphone brand has developed good electrical guitars that are usually well received.
9. Schecter
Schecter is an American company based in California. They started developing parts for other brands like Fender and Gibson.
Nowadays, Schecter has its own line of electric guitars. They continue to develop new models and produce their guitars, which are manufactured both in the US and other countries.
Also, see Synyster Gates Guitar, a well known Schecter model.
10. Washburn
Washburn is a well known guitar seller in the US. It has released several guitar models in the last decades.
However, most models of Washburn guitars are not made by the company itself. Rather, it enter in partnership with other companies to build guitar that are then sold under the Washburn brand.
Most of their guitars are nowadays made in China or other Asian countries.
11. Steinberger
The Steinberger guitar brand has created a series of well crafted guitar and related instruments. They specialized in producing electric guitar and basses.
The company was created by Ned Steinberger, who envisioned a company dedicated to innovative guitars and other instruments.
The design of Steinberger instruments is associated to a minimalist look and feel. This is represented specially by headless guitars and basses.
Other than this, the Steinberger company has been successful in created a whole line of guitars and is used by several professional players.
12. Silvertone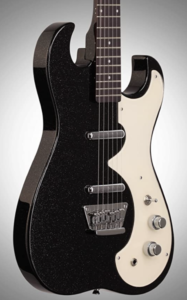 The Silvertone Guitar brand is a traditional brand that has made several popular guitars.
Silvertone was created by Sears to commercialize low budget guitars. Nonetheless, many of these models are high quality products that have been around for many years.
At one time, the Silvertone brand was bough by Samick, to form another guitar corporation. Since then, new models of Silvertone guitars have been released, with worldwide distribution.
The Silvertone classic is still a popular model. Other instruments have also been produced under the Silverton brand, including organs, harmonicas, amps, etc.
13. Giannini
Giannini is a traditional guitar brand from Brazil. For more than 100 years, they have produced some of the best acoustic and electric guitars in Brazil and sold all over the world.
Founded in the industrial state of São Paulo, Giannini was founded by immigrants who decided to recreate some of their best instruments in their new Brazilian home.
Gianni instruments include both traditional and classical guitars, as well as electric guitar and basses. One of the popular instruments they produce is the Giannini telecaster model, that has been  reviewed as a great instrument by many guitar players.
14. ESP Guitars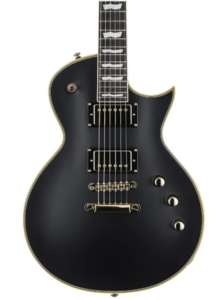 The ESP brand started as "Electric Sound Products", and it was founded in 1975 in Tokyo, Japan. It was initially just a music and equipment store, with a parts and services offer. With time, however, the company started to build its own instruments.
They started making custom replacement parts for guitars and basses. The diversification came pretty quickly.
Some of the available models under the ESP brand are:
ESP's Custom Shop,
ESP Original Series,
E-II Model,
Signature Model, and
LTD brands.
In summary, they currently make guitars, basses, and cases for every musical style. The company operates now in more than 100 countries.
ESP is a company known of the high quality standards used in their instruments. The guitars are made with meticulous craftsmanship that has made the brand famous.
Every ESP instrument is inspected thoroughly by a group of quality control technicians. They are shipped only after passing stringent tests that guarantee the quality and playability of the instrument.
15. IYV or Inyen Vina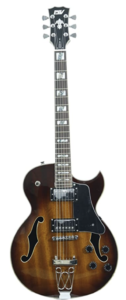 The Inyen Vina corporation, also known as IYV, is  a Vietnamese company that designes and manufactures quality guitars. They started operating since 1994.
The IYV guitar are made in HoChiMinh City, Vietnam, where the production process happens. The instruments are designed and marketed in collaboration with Korean companies.
According to the company, their differential is to use an electrostatic paint system for their guitars. They use if for middle and top coating, which make the paint more durable.
Another particularity of their production is that the products are made using a CNC automatic process.
Many of the IYV guitars are made with Mahogany, specially the pink Mahogany variety.
The IYV company also produces guitar for other known brands in OEM, so their guitars may be also around with a better recognized name.
16. D'Angelico Guitars
The D'Angelico brand is a traditional guitar maker, that has created several well known electric guitars.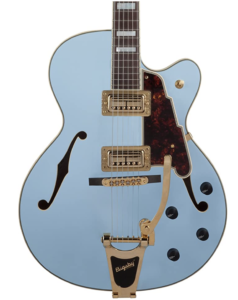 The D'Angelico company was started in New York City. The founder decided to open a guitar business in the 30s. Since then, the number of guitar models has increased greatly.
The electric guitars produced by D'Angelico have ben used by several renowned players, including George Benson. In general, D'Angelico guitars are well regarded by Jazz players, due to the high quality and sturdy construction.
In the last few years, D'Angelico has increased the number of models commercialized by the company. It still produces many high quality vintage models, but there has been a lot of experimentation to create modern guitars that are suitable to new audiences and guitar players.
The following types of guitars are produced by D'Angelico:
Hollow Bodies
Semi-hollows
Solid Bodies
Acoustic instruments.
17. Godin Guitars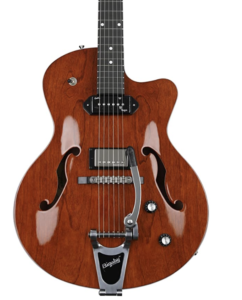 The Godin brand is a traditional Canadian company that that creates high quality guitar and other instruments. They have been in the market for more than 50 years.
The company was found in Quebec, and since the beginning they designed excellent instruments for the Canadian and international markets.
The Godin company is the owner of five brands, which include the following: Seagull, Simon & Patrick, Norman, Art & Lutherie and Godin.
One of the main products made by Godin are the TRIC guitar cases, which are well known for offering great quality and a high level of protection for instruments.
An example of high quality guitar is the Havana Hollow Body, which is a great option for R&B, Blues, and Jazz stiles. It comes with wild cherry back and sides, an exclusive "Seymour Duncan" '59 bridge pickup. This models also comes with a Bigsby Tremolo tailpiece, which complements the instrument quite well.
Acoustic Guitar Brands
18. Alvarez Guitars

Alvarez is a company that tries to craft instruments with creativity in mind. It is owned and operated by St Louis Music.
They have distinguished themselves by acutely understanding the relationship musicians have with the instrument.
In the 1980s Mr. Yairi, one of the founders of the company, developed the inovative Direct Coupled Bridge. He wanted to raise the string tension of the guitar and take the vibration created at the bridge into the top. The bridge design drops the bridge pins much lower than the saddle, and that creates a more acute string angle which increases the downforce on the saddle.
As a result, this technology heightened string tension. This really impacts the achievable response and projection. Something you will notice with Alvarez is the immediate response, no matter how soft you play.
Standard Alvarez guitars are fitted with a one-piece bi-level bridge that is based on Yairi's direct coupled design. This also heightens the string tension and improves response. Alvarez bi-level bridges have become part of DNA and together with the Alvarez logo make these guitars instantly recognizable.
Ovation
The Ovation company produces acoustic guitars that use synthetic materials, with excellent sound. The format of the instrument is also different, with a signature round back made of carbon fiber.
Classical Guitar Brands
Here is a list of other classical guitar brands:
Airline
Alembic
Ampeg
Antoria
Aria
Ashton Music
Avalon
Babicz
Bailey, John
B.C. Rich
Blackbird
Blade
Bohemian
Bond Electraglide
Brawley
Breedlove
Burns
C.R. Alsip
Campbell
Caparison
C.F. Martin
Chapman
Charvel
Chesbro
Cole Clark
Collings
Conde
Cort
D'Alegria
John D'Angelico
D'Angelico (company)
Daisy Rock Girl
Danelectro
Dean
Diamond
D'Aquisto, Jimmy
Dobro
Duesenberg
Eastwood
Eccleshall
El Degas
Eko
Electrical
Ernie Ball
Encore
Fano
Farida
Best Guitar Models
Learn more on these best guitar models.
Fernandes
First Act
Flaxwood
Floyd Rose
Fodera
Framus
Freshman
FujiGen
Furch
G&L
Gallotone
Garrison
Gilberto Grácio
Gittler
Godin
Gordon-Smith
Greco
Greg Bennett
Gretsch
Guild
Guyatone
Hagström
Hamer
Harley Benton
Harmony
Heritage
Höfner
Hohner
Hondo
Hora
Huss & Dalton Guitar Co.
Another List of Guitar Brands
Italia
Jackson
James Tyler
Jay Turser
Jeffrey Yong
Joseph Lukes
Jolana
Kahler
Kalamazoo
Kawai
Kay
Kiesel
Klira
Koll
Kramer
Kustom
KxK Guitars
Lado
Lâg
Lakland
Larrivée
Levin
Lichty
Lindert
Line 6
Lipe
Lotus
Lowden
Luna
Lyle
Maestro
Mann
Maton
Matsumoku
Mayones
Michael Kelly
Micro-Frets
Modulus
Moniker
Mosrite
MotorAve
Music Man
National
More of the Best Guitar Brands
Oscar Schmidt
Parker
Paul Reed Smith
Paulino Bernabe II
Peavey
Penco
Petros
PRS
RainSong
Ramírez
Recording King
Reverend
Rickenbacker
Robin
Ruokangas
Samick
Spector
Stagg
Stella
Suhr
Suzuki
Tacoma
Tagima
Takamine
Tanglewood
Taylor
Teisco
Teton
Tobias
Tokai
Tom Anderson
Tonante
Traben
Travis Bean
VOX
Walden
Warwick
Washburn
Westfield
Lesser Known Guitar Brands
Here are some lesser known guitar brands that also produce quality instruments. We'll add more information about these brands and we learn more about them.
Sadowsky
Santa Cruz
Seagull
Shergold
Sigma
Smith
Trembita
TYM
Univox
Valco
Valley Arts
Vester
Vigier
Westone
William Laskin
Yamaha
Yairi
Zemaitis
Zon