This article gives a list of 100 best guitar brands all over the world! From this list, you're guaranteed to find a guitar that fits your style, as well as your budget.
Top 10 Electric Guitar Brands
Electric guitar come in diverse shapes and forms. In this article we review the 10 best electric guitar brands that are known and used by guitar players world wide.
1. Fender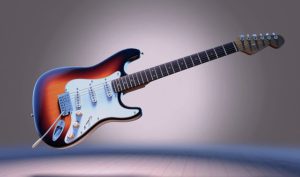 Fender is definitely the best know brand for electrical guitars. It is the 800 pound gorilla in the field.
This is probably the most iconic brand of electric guitars, created by Leo Fender. The well known models include Stratocaster and Telecaster.
Among the many guitars created by Fender, you'll find the classic Stratocaster, which is in my opinion the very definition of electric guitar.
The Fender company has also introduced the Telecaster, the Jaguar, the Jazzmaster, and several other lesser known guitar models.
2. Gibson
Closely following Fender, Gibson is also another classic electric guitar maker that is instantly recognizable by any guitar fan.
This is another iconic guitar maker. Their signature model is the Les Paul guitar.
The Gibson company started more than 100 years ago, and it has created some iconic guitar models that are used by many of the best guitar players.
The best known model of Gibson guitar is the Les Paul, which has been used and copied throughout the industry.
Also Read:
2021 Guide for Best Guitar Under $ 1000 and $ 3000
8 Best Acoustic Guitars Under 200
4 Best Red Electric Guitars for 2021
Find Here the Best, Cheap 12 String Electric Guitars
3. Gretch
Gretch is a classic brand that has delivered great instruments to generations of guitar players. Some of the models produced by Gretch include the following.
Gretsch G2622 Streamliner Center Block:
Gretsch G5260T Electromatic Jet:
4. Ibanez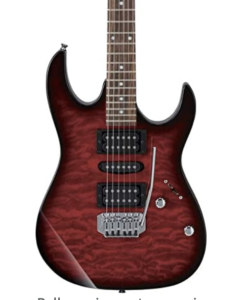 Ibanez is a Japanese maker of electric guitars. They started becoming famous in the 80s, with several successful models.
The Ibanez electric guitar are very well know for the quality, yet at fairly cheap prices.
It is probably the best known guitar produced in Japan, and it is also a great quality product, for an excellent price.
Their guitars have very precise fretboards and scales, making it very easy to setup the instrument. It is a preferred guitar for hard rock and metal players and other guitar players that value speed.
5. Yamaha
Yamaha is another Japanese company that has been very successful in developing musical instruments.
The Yamaha electric guitars are well build and fairly priced. The lines of electric guitars are similar to other well known guitars such as Fender Stratocaster and Gibson.
6. Rickenbacker
7. Squier
The Squier brand is nowadays a subsidiary of Fender. They specialize in creating Fender-styled guitars for entry level pricing.
Thus, their instruments are mainly targeted at people who want an entry-level instrument. The typical buyers are students, amateurs, and price in general who want a cheap guitar for practice and fun.
Despite this, Squier instruments have good quality, and can be used even by professionals.
8. Epiphone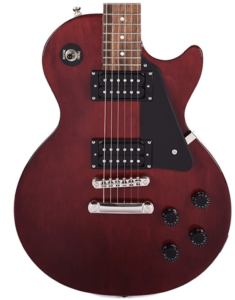 Epiphone is the cheap brand of Gibson. They have a business model similar to Squier and Fender.
The Epiphone guitars are similar to Gibson guitars, but with cheaper prices and less expensive construction. This means that it will use cheaper materials.
The Epiphone brand has developed good electrical guitars that are usually well received.
9. Schecter
Schecter is an American company based in California. They started developing parts for other brands like Fender and Gibson.
Nowadays, Schecter has its own line of electric guitars. They continue to develop new models and produce their guitars, which are manufactured both in the US and other countries.
Also, see Synyster Gates Guitar, a well known Schecter model.
10. Washburn
Washburn is a well known guitar seller in the US. It has released several guitar models in the last decades.
However, most models of Washburn guitars are not made by the company itself. Rather, it enter in partnership with other companies to build guitar that are then sold under the Washburn brand.
Most of their guitars are nowadays made in China or other Asian countries.
Acoustic Guitar Brands
Ovation: the ovation company produces acoustic guitars that use synthetic materials, with excellent sound. The format of the instrument is also different, with a signature round back made of carbon fiber.
Classical Guitar Brands
Here is a list of classical guitar brands:
Airline
Alembic
Alvarez
Ampeg
Antoria
Aria
Ashton Music
Avalon
Babicz
Bailey, John
B.C. Rich
Blackbird
Blade
Bohemian
Bond Electraglide
Brawley
Breedlove
Burns
C.R. Alsip
Campbell
Caparison
C.F. Martin
Chapman
Charvel
Chesbro
Cole Clark
Collings
Conde
Cort
D'Alegria
John D'Angelico
D'Angelico (company)
Daisy Rock Girl
Danelectro
Dean
Diamond
D'Aquisto, Jimmy
Dobro
Duesenberg
Eastwood
Eccleshall
El Degas
ESP
Eko
Electrical
Ernie Ball
Encore
Fano
Farida
Fernandes
First Act
Flaxwood
Floyd Rose
Fodera
Framus
Freshman
FujiGen
Furch
G&L
Gallotone
Garrison
Giannini
Gilberto Grácio
Gittler
Godin
Gordon-Smith
Greco
Greg Bennett
Gretsch
Guild
Guyatone
Hagström
Hamer
Harley Benton
Harmony
Heritage
Höfner
Hohner
Hondo
Hora
Huss & Dalton Guitar Co.
Italia
Jackson
James Tyler
Jay Turser
Jeffrey Yong
Joseph Lukes
Jolana
Kahler
Kalamazoo
Kawai
Kay
Kiesel
Klira
Koll
Kramer
Kustom
KxK Guitars
Lado
Lâg
Lakland
Larrivée
Levin
Lichty
Lindert
Line 6
Lipe
Lotus
Lowden
Luna
Lyle
Maestro
Mann
Maton
Matsumoku
Mayones
Michael Kelly
Micro-Frets
Modulus
Moniker
Mosrite
MotorAve
Music Man
National
Oscar Schmidt
Parker
Paul Reed Smith
Paulino Bernabe II
Peavey
Penco
Petros
PRS
RainSong
Ramírez
Recording King
Reverend
Rickenbacker
Robin
Ruokangas
Samick
Sadowsky
Santa Cruz
Seagull
Shergold
Sigma
Silvertone
Smith
Spector
Squier
Stagg
Steinberger
Stella
Suhr
Suzuki
Tacoma
Tagima
Takamine
Tanglewood
Taylor
Teisco
Teton
Tobias
Tokai
Tom Anderson
Tonante
Traben
Travis Bean
Trembita
TYM
Univox
Valco
Valley Arts
Vester
Vigier
VOX
Walden
Warwick
Washburn
Westfield
Westone
William Laskin
Yamaha
Yairi
Zemaitis
Zon