A 12 string electric guitar has the power to double the joy! A thicker, fuller sound with more of that glorious harmonic resonance and chime can be heard from simply one guitar. We consider cheap 12 string guitars that can help you sound like a pro.
In this article I present a few of the best and cheap options in the market for 12 string electric guitars, ranging in price and features.
Takamine TSP158C-12 12-String Acoustic-Electric Guitar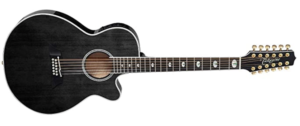 This model by Takamine is a  12-String guitar. This thin line guitar is crafted with a maple body. The model uses an arched back design that is innovative and easy to play.
The guitar is made with solid Sitka spruce top, which helps to get a better sound. The maple neck, and ebony fingerboard is easy to use and very comfortable, especially for new players. The nut size is 42.5 mm.
This is also an electric instrument, equipped with the easy to use volume knob and its built-in CT-IIIN electronics.
The Takamine guitar is usually sold with complementary gig package, that protects the instrument neatly with its semi-hard protective case. 
Summary of main features: Maple Body w/Arched Back Solid Sitka Spruce TopMaple Neck w/ Ebony FretboardCT-IIIN Electronics
 WidthCase Included
Yamaha CPX700II-12 12-String Cutaway Cheap Acoustic-Electric Guitar
This Yamaha model is part of the CPX Series. The series brings a set of very well crafted full bodied guitars.
A great feature of this instrument is that is is adorned with exquisite inlays and great finishes, made with superb craftsmanship. Even though this is an inexpensive instrument, it has finishes comparable to more expensive models.
The construction of this 12 strings guitar places emphasis on playability. For this purpose, it is made of exceptional quality woods. Here are the woods used:
| | |
| --- | --- |
| Top Wood: | Mahogany |
| Body: | Mahogany |
| Back Wood: | Mahogany Wood |
| Neck Material: | Nato Wood |
| Fretboard  Type:  | Rosewood |
The type of design used in this 12 string guitar is based on non-scalloped X-type bracing. This construction technique ensures the projection of a powerful, yet controlled tone.
With an exclusive medium-jumbo body, this Yamaha guitar boasts a powerful and rich bass. The high notes are smooth and delicate. Yet, the guitar provides a sweet mid-range, which results in a very open and modern sound.
The result is that this acoustic-electric guitar delivers very rich acoustic sounds, while still providing an on-stage signal that is clear and capable of on-stage presence.
Vangoa 12 String Guitar, Acoustic-electric Dreadnought Cutaway
The last 12 string electric guitar I'll cover is this Vangoa model.


This is a very high quality guitar that has everything you need to create a smooth sound.
This attractive guitar is able to sound big, open chords. The tone wood and strings will certainly work their magic.
This guitar has a number of advantages over 6 string guitars:
It can used in several genres of music.
Has brilliant and richer sound, and more ringing tone.
You can create more harmonic sound, out-of-phase vibrations.

The result sounds like 2 guitars playing together.

It is a great option for accompaniment.

It can be used very well for solo gigs, providing a fuller sound.

It is also a perfect option to provide more filling, when played along a weak guitar tone.
Learning More About Guitars
If you want to learn more about guitar tuning and scales, you should get our free complete guitar course. In these guitar lessons, you'll learn about:
To get your free copy, just click here and request your guitar course.