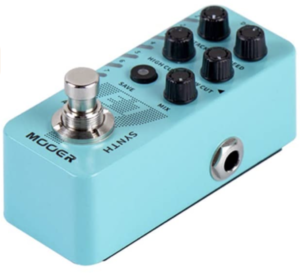 Mooer E7 is a pocket guitar synth pedal. It is very versatile, and has several synth tones that you can use to practice of to gig.
In this article we review the review the features and capability of this little pedal that has so much to offer.
What is a Synth Pedal?
A synth pedal is designed to make the guitar sound as a synthesizer. As such, you can have an almost infinite combination of sounds generated by this type of pedal.
The first synthesizers were designed for keyboards. The heyday of this type of instruments was in the 80s, but since them we still have a lot of music that uses synthesizers in one way or another.
For guitar players, the synth pedal is a method to have the same capability. Another method is using a MIDI guitar, which you can learn about in another article.
The quality of synth pedals has improved considerably in the last few years. This happened because the circuits that were only available in a powerful keyboard can now be miniaturized into a tiny guitar pedal.
Also Read:
Essential Guitar Pedals You Need to Have
6 Best Vocal Effects Pedals for 2022
Key 9 Pedal Review: Electric Piano Machine
Guitar Tricks Review And A Free Gift
Spark Amp: You'll be Surprised By This Guitar Amp
Mooer E7 Polyphonic Guitar Synth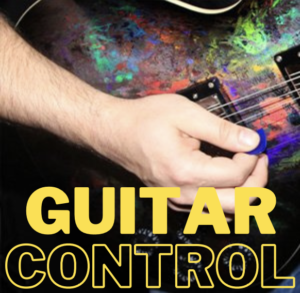 The E7  Polyphonic Synth can transform your guitar into a typical electronic synthesizer, without the need for special pickups or instrument modifications.
The pedal is named as E7, for its seven available custom synthesized tones.
The E7 not only provides traditional synthesized sounds, but is also an arpeggiator. This means that it can produce arpeggios in different effects and configurations.
Main Features of the Mooer E7
The Mower E7 pedal provides brand-new MOOER synth tones. Moreover, these features are straightforward to use by any guitar player, through the use of 7 LED indicators on the right side of the case.
The 7 different MOOER custom synthesizer tones can be adjusted to any synth tones using adjustment knobs, just the way you enjoy. The synths types include the following:
Trumpet,

Organ,

Sea wave,

Weeyo,

Saw wave,

8bits,

EDM,

Pad.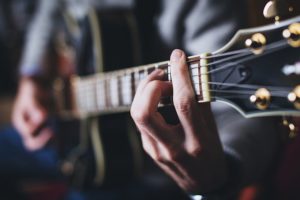 There are also 7 slots for storing users' presets. You can take advantage of these presets to transform your guitar into a typical electronic synthesizer. All this without the need for special pickups or instrument modifications.
affiliate linkEach tone in this library also comes with an individual arpeggiator. The are also parameters that can be set, including the following:
high/low frequency cut,

sound attack,

speed function.
The combination of parameters and tones will allow users to shape the tone easily. Using this system, you can get any sound you can imagine, exploring the big horizon of tones possible with the E7.
It is important to emphasize that the Moor E7 can transform your guitar into a full electronic synthesizer. There's no need for special MIDI pickups or other instrument modifications.
Technical Specs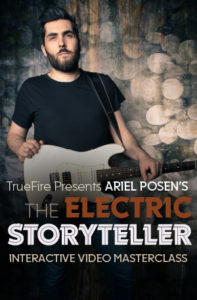 Here are the full technical specs for this pedal:
Input:1/4 Mono Jack input, can be connected to any guitar or similar instrument.

Output:1/4 Mono Jack output, can be directed to an Amp or oaffiliate linkther pedal combination.

Power Supply: 9V DC.

Current Draw: 200mA.
Another Option: 
Electro-Harmonix Synth 9 Pedal

Synthesizer Machine Pedal: the Electro-Harmonix Synth 9 is another pedal that offer many of the features present in the Moor E7.
If contains several different synth sounds that can be combined in different ways, using the set of knobs provided.