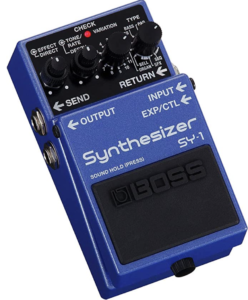 The Guitar Synthesizer BOSS SY-1 Pedal is an advanced sound processor in a single pedal. You can use the BOSS SY-1 to generate sounds similar to a traditional synthesizer.
If you want to create new sound in your guitar that you though were impossible, you should give the BOSS SY-1 a try. It is an inexpensive pedal that opens a world of possibilities for guitar players. It is capable to transform your guitar in any kind of instrument you can imagine, using digital technology to simulate sounds.
With the BOSS SY-1 you can open new avenues to your imagination, even without the use of any extra equipment.
Main Advantages of the BOSS SY-1
The main advantage os this pedal is that you don't need a special pickup to create digitally processed sounds. You can do everything with a standard electric guitar.
In the past, many guitars were designed specially to create digital (MIDI) output. Some of these guitars still exist, but they have several disadvantages:
They are expensive,
Some of these guitars don't have a natural sound,
They use uncommon pickup systems,
And sometimes they just don't have the same quality of other guitar equipment.
When using the BOSS SY-1, however, you don't need to worry about using a different instrument.
With this pedal, BOSS has perfected the technology of processing standard electric guitar signals, and transforming then in real time into digital output.
This is an impressive feat in itself: you can get very high quality sound tracking from a standard instrument. The response time is almost instantaneous, so you won't feel any delay.
Also Read:
Starfire: Semi-Hollow Electric Guitar
GTRS S800: The Intelligent Guitar With FX Effects
Mooer E7: Polyphonic Guitar Synth Effects Pedal Review
9 Best Vocal Effects Pedals for 2022
Essential Guitar Pedals You Need to Have
Sound Capabilities of This Pedal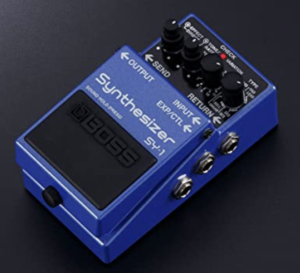 The other interesting thing about the BOSS SY-1 is that it has a huge number of sounds that can be tweaked with a few controls.
The interface to the pedal consists of a few knobs that you can turn to achieve the desired effects you need.
The total number of different base sounds is 121. They cover everything from piano and other keyboard-like sounds to saxophone, marimba, and others.
But this is just a base list. You can still teak these sounds using effect knobs, and reach a staggering number of combinations that will change the way you use your guitar.
Each basic sound has 11 variations that can change the parameters of the sound.
Who Can Use the BOSS SY-1 Pedal
This pedal was designed in a way that not just guitar players can benefit. You can also use this pedal with a bass guitar and achieve many of the same results.
The SY-1 is capable of adapting its input to the bass guitar seamlessly, resulting in well designed effects that can be applied in several musical contexts.
There are some specific effects that can be used by bass players.
Summary of Features
Here is a quick summary of features for the BOSS SY-1 pedal:
Polyphonic synthesizer pedal for electric guitar and bass
121 total sounds, featuring 11 synth types with 11 variations for each
Requires no special pickup or additional electronics
No perceptible latency to distract you from your performance
Hold function allows you to sustain a synth sound to play over
Blend your guitar and synth tones with independent volume controls
Parallel send/return loop for integrating effects pedals, or for use as a direct out to a separate amp
Additional control via expression pedal or footswitch (not included)
Check Price Now for the BOSS SY-1!
Video Review
This is a great video review of this pedal: