MIDI guitars are capable of converting the electric signal directly to MIDI. This makes these guitars extremely versatile.
One of the advantages of keyboard instruments is the ability to produce MIDI output. This has been a prime reason for keyboards to be used on synths and other electronic instruments.
But nowadays you can also do many of the same tricks using a guitar. MIDI guitars have been in the market for the last few years, and they're becoming more sophisticated each time.
In this article I show some of the best MIDI guitar in the market, and their differences.
Jamstik Studio MIDI Guitar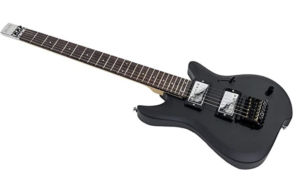 The Jamstik Studio MIDI guitar is an innovative instrument that has everything you need to be creating with MIDI.
First of all, the jamstik feels like a real guitar, not a toy. It has all the features typically associated to a good electric guitar, including a Stratocaster body.
The body is made of mahogany, so you'll feel like you're playing a standard instrument.
However, with this guitar you get a complete MIDI controller that can create music with any digital sound you want. You can choose from a traditional piano to a completely synth sound. You can also expand the MIDI sounds from libraries that you can buy on the Internet.
The ability to make your own sound makes this instrument very different from the traditional approach to guitar playing, so you'll also have to adapt your technique. But the results are really incredible.
What are the Features of Jamstik?
Here are the technical specifications of the Jamstik MIDI guitar:
| | |
| --- | --- |
| Guitar Height: | 32.5" / 825.5mm. |
| Total Weight: | 5.5lb /2.5kg. |
| Body Wood: | Mahogany. |
| Neck Wood: | Maple. |
| Neck Format: | C-Shape. |
| Length of Scale: | 25.5" / 648mm. |
| Radius of Fretboard: | 13.78″ / 250mm. |
| | |
| | |
| --- | --- |
| Truss Rod: | Adjustable. |
| Fretboard Wood: | Rosewood. |
| Neck Width: | 1.57" /40mm. |
| Bridge Pickup: | LIGHTNING LH-B. |
| Neck Pickup: | LIGHTNING LH-N. |
| Pickup Switching: | 3-Position Toggle. |
| Pickup Configuration: | 2 Hambuckers. |
| Types of Knobs: | Volume knob with pull switches for single coil pickup. |
Check Now the Jamstik Studio MIDI guitar at Amazon.com!
Read More:
How to Tune a Guitar with a Tuner
5 Ways to Improve Your Guitar Study Routine
Jamstik Video Review
You can get some additional information about the Jamstick watching the following video review:
Jamstick Guitar Trainer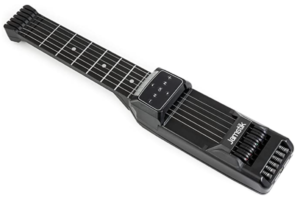 The Jamstick Guitar Trainer is another successful model of MIDI guitar. This one is intended as a smaller training instrument.
Despite the smaller size, the Jamstick still maintains everything you need to use a guitar conformably.
It is an ultra-portable MIDI guitar, that has wireless features. It is a smart instrument. Because this is targeted at people learning the guitar, it comes bundled with teaching apps that will help you to learn to play.
You'll get real-time feedback when using the Jamstick Guitar Trainer. The technology is called "FretTouch Finger Sensing", and basically it has an optical pickup that can give you feedback on your hand position and movement. You'll be able to see your fingers on the screen of the device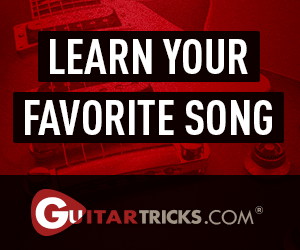 As an extra, you'll receive an entry-level MIDI controller. This type of instrument can be used as an introduction to music production, and/or composition.
Jammy G Digital MIDI Guitar

The second high quality MIDI guitar I tested is the Jammy G Digital MIDI guitar.
This guitar has as one of its main features a sleek design, that makes it stand out in comparison to other similar guitars.
The fact that this guitar has MIDI functionality makes it easier to build than a traditional instrument. It doesn't have the standard strings and elements needed by an electric guitar.
Therefore, with the Jammy G you can have a more portable, light and easy to carry guitar. The parts used can be made of plastic and other light materials. The guitar can also be folded and transported around.
The Jammy G offers a number of possibilities to connect to amps and other systems. You can plug the Jammy G into your PC via USB-C, or hooking up to your phone in a matter of seconds.
Another options is to use the guitar directly in MIDI mode. When used in this way, it can operate as a standard MIDI controller, and sound like any instrument you want.
Check Now Jammy G Digital MIDI Guitar at Amazon.com!
Jammy MIDI Guitar Review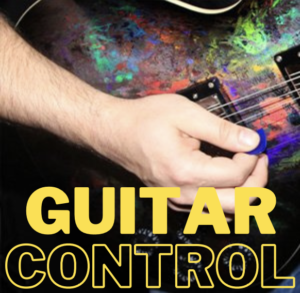 The Jammy guitar has been reviewed positively by several musicians and guitar specialists.
The outstanding MIDI capabilities of the Jammy G will allow you to create a multi-instrumental track with only guitar playing skills. This way, you can leverage your guitar to create tracks sounding like any other digital instrument.
Another advantage of the Jammy G is portability. This super-portable guitar also doesn't take up much space in your home, and fits easily into your backpack.
You won't have any problems powering this guitar. That's because it comes with its own 4400 mAh battery, which is enough for 6 hours of active playing. That's enough juice to last the entire gig without recharge.
Using The Jammy G as a Portable Digital Instrument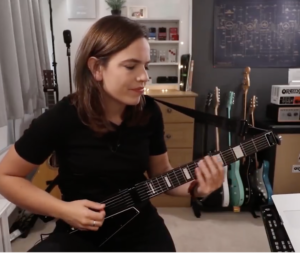 Another advantage of the Jammy G is that, despite being a digital instrument, you don't need a computer to try it. It can be used in standard guitar model, if you want.
It is always tuned and ready to play, and has an onboard sound of acoustic, electric, or classical guitar. So, you can still use it to practice you standard guitar skills.
This simple feature allows you to immediately try out your ideas without the need to connect to a phone or computer. Just plug your headphones and play. This is an awesome feature for people who want to travel or play in a silent environment.
The Jammy G's also has a built-in programmable accelerometer and push-knob. This combination can be used to control effects and filters, or switch instruments. Is up to you to control the features of this guitar.
Jammy G Video Review
If you want to learn more about the Jammy G MIDI guitar, here is a video review that you can watch:
Check Now Jammy G Digital MIDI Guitar at Amazon.com!
Read More:
4 Best Red Electric Guitars for 2021
Guitar String Notes: Easily Finding Them
Learning More About MIDI Guitars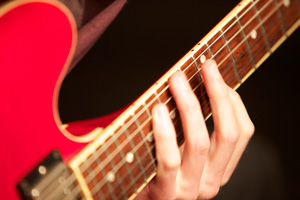 If you want to learn more about MIDI guitars, you need to get our complete MIDI Guitars Guide. In this concise but complete guide you'll learn about how to use, maintain, and play MIDI guitars, with case studies, suggestions, and practical tips that will help any guitar player.
BUY NOW FOR $5 (80% OFF)