Carbon fiber guitars are a new option to the traditional wood instruments. New techniques and products have made the best carbon fiber guitar a reality.
What is a Carbon Fiber Guitar?
The traditional material used for guitar is wood. However, new techniques have made possible to create guitars purely from carbon fiber, using no wood or just small pieces of wood.
Carbon fiber is a material developed in laboratory that is strong and light, so that it can be used in several areas in which wood or metal was the only options. Carbon fiber guitars offer a lot of the features of this construction material.
Advantages of Carbon Fiber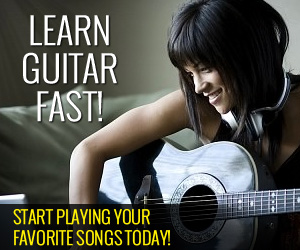 Carbon fiber offers a number of advantages for guitar construction, which are only now being considered:
It is very strong: one of the main problems of standard guitars is to make a piece of wood with good vibrations but strong enough to support the tension of the strings. Several techniques have been developed, from using bracings to truss rods.
These techniques, however, are needed only because thin wood is a fragile material. Even with these measures, there are still a lot of guitar that will break over time from the stress of strings.
It is lightweight: one can use carbon fiber that is very strong and weights less than the equivalent piece of wood or metal. This is a win-win situation for guitar builders. The resulting instrument is much lighter and stronger than a similar one made of traditional wood.
You May Also Be Interested:
New and Exciting Ways To Learn Guitar Online
Succeeding in the Music Industry
Disadvantages of Carbon Fiber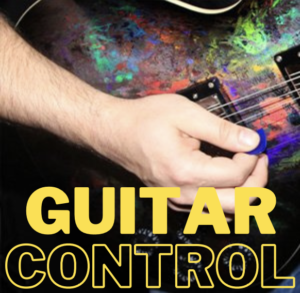 However, the case for using carbon fiber in guitar construction is not so easy to decide, because there are also some disadvantages.
The main disadvantage is that carbon fiber instruments don't generate sound that is the same or even close to good wood guitars.
This is due to the fact that wood is a complex material that vibrates in a very elaborate manner, that is very difficult to replicate with another material. While carbon fiber can be used well to replace the visual and structural aspects of wood, when it comes to sound it is still almost impossible to reproduce the way the top of a wood guitar vibrates.
Solving the Sound Problem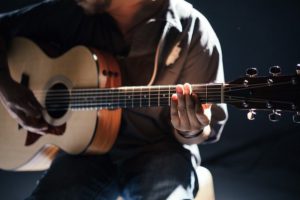 This simple fact is the biggest hurdle for carbon fiber guitar makers. The way they try to solve this is by using pieces of typical woods such as Alder, basswood, mahogany, swamp ash, walnut, koa, maple, and rosewood.
They can use these woods in different parts such as the neck, the fretboard, or even the whole top, while maintaining most parts of the guitar as wood.
Another strategy is to use electronics to create effects to replicate the sound of a traditional guitar.
Carbon Fiber Guitar Models
There are already a good number of these guitars on the market. The first ones were created in the 60s and 70s. Nowadays, there is a fair number of models of different sizes, and using new constructions techniques.
Here are a few of the best ones.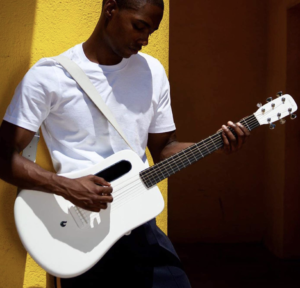 The LavaMe carbon fiber guitar is a leading unibody model. This means that it is made from a single piece injection mould.
This technology makes the Lava Me 2 very comfortable to hold. Moreover, it gives it a fantastic acoustic performance.
Using the Lava Me 2 you get get a loud range, with wide frequency tone.
The guitar has a 36 inches body size. It also weights just 3.7 pounds, making it lighter than most laptops. It is an ideal easy to carry instrument.
The Lava Me 2 comes with a lot of built-in sound effects. Thus, you can play with different sounds without the need of a plug ins.
This is thanks to the so-called FreeBoost Technology, which is used on L2 pickups. This new tech, uses the rear surface of the guitar as a speaker, considerably increasing the sound of the instrument.
If you turn on the pickups anytime, you can instantly play with the following settings:
reverb,

delay,

chorus

and balance
without the need of an amp.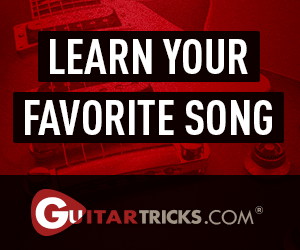 The L2 fiber guitar pickup also comes with an innovative percussion effect. It is enabled with a percussion sound receiving mic. This means that the guitar will enhance the percussion sound, no matter if you're using it plugged in or not.
This guitar was tested and works really well in different temperatures and conditions. The carbon fiber material used can adapt to all kinds of temperatures, ranging from -4°F to 176°F. This is an advantage of wood guitars that will not support sudden changes in temperature.
The L2 fiber guitar also respond well to humidity varying from 10% to 90%. With this guitar, you can get good response all the time, it doesn't matter if you are in desert or in the extreme cold.
With all these features, the Lava Me 2 presents a new playing experience.  The guitar also comes equipped with a gig bag, a charging cable, and some accessories.
Two More Fiber Guitars
Enya Carbon Fiber Acoustic Electric Guitar



Carbon Fiber Guitar Reviews
This type of guitars is still very new, compared to wood guitars.
After all, traditional guitar have already a history of more than a thousands years, if you consider the ancestors of the modern guitar.
However, if you look at the reviews, there are many people who love their carbon fiber models.
Most reviewers consider that this type of guitar bring more flexibility and diversity to the market.
A few reviewers dislike the fact that the fiber guitars don't sound as good as traditional guitars.
However, as any new technology, this means that these instruments will reach a particular public that likes their advantages. They will also evolve to be used in certain musical styles.
How to Make A Carbon Fiber Neck?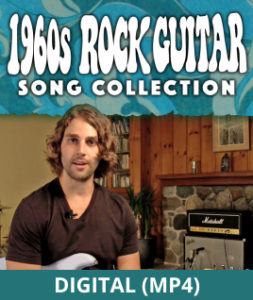 A question that many people wonder is how to create a carbon fiber neck.
To answer this, you need to use especial equipment to create carbon fiber parts. Any machine shop that works with this type of material has the capability of create guitar necks.
The advantage of such guitar necks is that they are strong, and very light. This may result in an ideal material to be used for guitar construction.
Unfortunately, this also has problems because the neck is an important part of the general tone of the instrument. Some instruments, therefore, will prefer to use a wood neck.
Travel Guitars
Another common use for these guitar is to serve traveling musicians.
Carbon fiber may be a great material for travel guitars, because it is light and will resist temperature changes easily.
In fact, I already have an article that covers five of the best travel guitars out there:
You may also want to consider fiber as an option for your next travel guitar.
Video Lessons
You can find more about these innovative guitars in the following video lessons:
This video also has a good comparison of carbon fiber and wood guitars:
Learning More About Guitars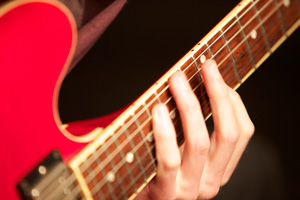 If you want to learn more about Carbon Fiber guitars, you need to get our complete Carbon Fiber and MIDI Guitars Guide. In this concise but complete PDF guide, you'll learn about how to use, maintain, and play Carbon Fiber guitars and MIDI guitars, with case studies, suggestions, and practical tips that will help any guitar player.
BUY NOW FOR ONLY $5 (80% OFF SALE)