If you like acoustic guitars, but think that some of the models are too big and not comfortable to play, then the Taylor GS Mini guitar must the best choice for you.
Taylor figured out that some of the acoustic guitar models around were too bulky and big. The large size of some guitars are useful to get a bigger sound, and may be what you need. But nowadays, even acoustic guitars are played through mics, so in practice the size of the instrument is not that important.
Moreover, there are people who are smaller in size, especially when we talk about kids. They prefer to have an instrument that fit them better.
Even people that have no problem with standard acoustic guitars will enjoy playing the Taylor GS mini. It is just a more portable guitar that sounds really good, and its a little cheaper than other models.
Features of the Taylor GS Mini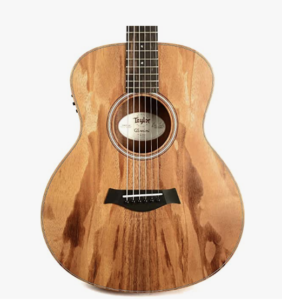 Well, the Taylor GS Mini series brings several models with reduced/undersized bodies, but still with the full capabilities of a traditional acoustic guitar.
As a result, these guitars deliver the big, bold, acoustic tone that is expected from their full-sized siblings of the acoustic guitar world.
In terms of materials used in the construction, the Taylor GS Mini series uses very high quality woods on the top and back of the instrument. The particular types of tonewoods used help to keep these guitar at a reasonable price point without much sacrifice of tone.
Fretboard and Body Length
With a total length of a little more than 36-inches, you can consider the Taylor GS Mini an ultra-portable guitar. This means that you can easily carry it around in your car and use it for traveling in general.
The fact that this guitar has a shorter scale and neck also means that it is easier to hold and play. This is a great advantage for young learners and people with small hands, who can use this guitar more comfortably.
Important Touches
The GS Mini series also has other touches that make easier to play and use. First, the fingerboard is completely made in ebony, which enhances its playability.
The Bridge is also make of ebony, offering higher stability and contributing to the general quality of the instrument.
In terms of durability, you will have access to features like an X-braced top: this feature makes the design even more robust. The braceless arched back also complements the durability and resonance of this acoustic guitar.
Finally, the resonance and sustain of the guitar is enhanced by the use of a NuBone nut and saddle.
Taylor GS Mini Models
Here are some of the main models released on the Taylor GS Mini:
Taylor GS Mini-e Rosewood ES-B
Taylor GS Mini-e Solid Koa Top ESB
Learning More About Guitars
If you want to learn more about acoustic guitar models, you should get our free complete guitar course. In these guitar lessons, you'll learn about:
To get your free copy, just click here and request your guitar course.