Traveling for a musician is such a big deal, because you need to transport the instrument and make sure it will not break on the way. Travel guitars were invented to help you with that.
Traveler Guitar Ultra-Light Acoustic
The Ultra-Light is probably the smallest, lightest, full-scale travel guitar on the market.
It has a proprietary, In-Body tuning system that uses standard tuning machines relocated into the body. This essentially eliminates the need for a headstock, reducing the guitar size.
Another advantage of this guitar is that you'll have the same full-scale playing experience you already have on a standard instrument. However, this full-scale fretboard comes in a substantially shorter and lighter body than a typical full-size acoustic.
The Ultra-Light also comes equipped with electronics: an acoustic piezo pickup and a standard 1/4-inch output jack. You can plug into your favorite amp, recording device, or headphone and practice wherever you want.
Related post: 14 ways to improve your guitar skills
Traveler Guitar Escape Mark III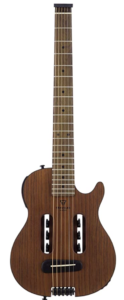 The Escape Mark III is produced by the Traveler Guitar. For nearly 3 decades, they have been providing musicians with quality guitars made for the road.
This is a guitar that can fit in tiny spaces. However, it plays with a big sound, featuring a variety of tuning systems.
This guitar also support headphone amps, and onboard electronics, which were designed to help during practice, play, or record.
The Escape Mark III acoustic guitar features include a mahogany body with cutaway for high fret access, and a bolt-on mahogany neck. It comes with standard tuning machines and uses standard acoustic strings.
This guitar is only 29 1/2″ long, and is ready to play right out of the bag.
The In-Body tuning system uses standard strings and standard tuners. This means that you can use your favorite strings on the Escape Mark III.
The package also comes with a custom onboard headphone amp, built-in tuner, a 2-band EQ. It also has an aux-in, which allow you to jam with any backing tracks.
Traveler Guitar EG-1 Custom Black

The EG-1 Custom is a really compact, full size guitar. It weighs less than 5 pounds and it's just over 28 inches long. That can help you to take in an airplane, for example.
The EG-1 Custom features active electronics with a proprietary 4-channel headphone amplifier built-in. This feature allows you to practice without disturbing others.
The custom tap-pot can be used to cycle through clean, boost, overdrive and distortion tones. You can also use guitar guitar through your headphones or favorite amp.
Here is a quick summary of the features:
Full 24 3/4-inch Scale Electric Travel Guitar

Built-in headphone amp w/ clean, boost, overdrive, and distortion

Aux-in for jamming with your music

Built-in E-tuner on pickup ring

Deluxe Gig Bag Included
Related post: playing guitar by ear
Asmuse Foldable Travel Headless Electric Guitar

The Asmuse Foldable Travel Headless Electric Guitar comes with a built in headphone jack.
It has a full-scale, which make the guitar easy to play. It also has a headless design, with locking nut, to protect the guitar strings so they will not easily slip out of tune.
Another innovation of this model is the foldable body. The folded size is much smaller than the regular electric guitar. This makes this guitar very portable and convenient for travel.
When unfolded, however, this guitar becomes a full-scale electric instrument, that you can enjoy.
The Asmuse Foldable has a built-in headphone amp and rechargeable battery (which can last for 8 hours).
With the headphone amp, you can use it to play on a train or in the hotel, and you won't  disturb anyone.
Travelcaster Deluxe Electric

The new Traveler Guitar travel caster is a full 25 1/2" scale electric travel guitar, similar to a Stratocaster. However, It weights just 5 lbs. 3 oz, with an overall length of 33. 75 in.
The travel caster emphasizes portability without sacrificing playability, which is very similar to more traditional models.
It comes equipped with 3 single coil pickups, 1 volume control, 2 Tone controls, a 5-way pickup selector.
The 2-point fulcrum tremolo makes for far better tuning stability, while the steel saddle and bone nut produce more sustain and better tone than similar travel guitars.
The travel caster also brings some traditional guitar features like 22 medium jumbo frets. It has a poplar body, and a standard maple neck.
Available in a classic Surf Green with Maple fingerboard, the travel caster pays tribute to the past while also offering an innovative and forward-thinking portable solution for guitarists. To help with your travels, it also comes complete with a deluxe Traveler Guitar gig bag.
Learning More About Travel Guitars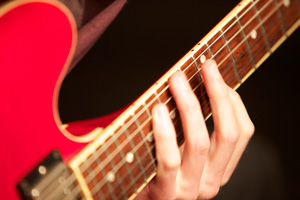 If you want to learn more about travel guitars, you should get our complete Travel Guitar Manual. In this concise but complete manual you'll learn about travel guitars: use, maintenance, recommended models, and practice tips.
BUY NOW FOR $5 (80% OFF)