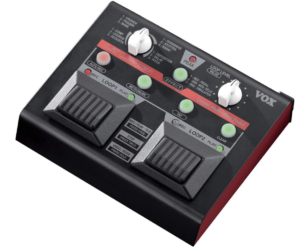 The Vox lil looper is looper pedal for guitarists that has a number of innovative features to liberate your creativity.
Vox has been know through the years to provide high quality products that have been used by generations of guitar players.
This time, they came up with a very interesting pedal that combines two loopers into a single unity. This unique feature provides the ability to switch between two pre-recorded loops along with nice sound effects. This makes the Vox Lil an essential pedal for guitarists.
How does the Vox Lil Looper Work?
This guitar pedal is based on the interesting idea of combining two independent loopers, and let you switch between them in a quick way, along with some other sound effects.
This gives you a lot of opportunities that are not available on single looper pedals. You can now have extra-control that can be useful during live gigs and performances.
Some of the features provided by this dual pedal include:
Recording starts when you press a single button, and you can do this with each of the two pedals.
Overdubbing, that is, recording along with the previously recorded sounds.
Switching: at any moment you can switch the playback to the other pedal, in a seamless way.
Undo/redo: you can clear the latest overdubbing, or you can redo it if you prefer.
The Vox Lil is capable of recording up two 90 seconds of music in each independent loop, which is more than enough to make your ideas become reality. Some more expensive pedals give you more time, but my personal experience is that is very rare to create a single loop with more than 90 seconds, so this is completely adequate for most players.
Loop Quantize on Vox Lil Looper
Another very useful feature of the Lil Looper is the ability to quantize your loops. What this means is that the looper is able to recognize the underlying tempo and rhythm of the recording. This make is possible to synchronize what is being played in each loop.
With this feature, you can for example create the first loop in a rhythm. When switching, the pedal will make sure that you're in sync, therefore avoid timing problems when switching between looper tracks.
Connectivity of the Vox Lil Looper
Another feature of the pedal is the set of inputs. You can connect not only your guitar, but you can also use a mic input. This is very useful when you're singing and want to use vocal effects as part of your loop.
The guitar plus mic connection is very powerful and makes your loops even richer that what you could do just with a guitar. The connection is of the XLR type, which is supported by most mics in the market.
Built-in Effects
Not only the Vox Lil is a great looper, with all the expected looper functions, but it also provides a good number of guitar effects that make it even more versatile.
I really enjoy using the guitar effects included, because it covers the most common effects used in the guitar, including:
Phaser
Crunch
Overdrive
Chorus
Distortion
Delay
And a few others.
The other interesting thing is that these effects can also be applied to the voice input. So, for example, a delay effect can be very useful for voice loops, as well.
Similar Pedals
The Vox Lil looper compares favorably to other great looper pedals you will find on the market.
Here are some other looper pedals that have some of the features present in the Vox Lil Looper:

Boss Loop Station RC5 (check price now) : a very compact and advanced looper created by Boss.

Boss RC1  (check price now): This is the entry level version of the loop station. It gives you a lot of features for a cheaper price.

Flamma FS21 Looper Pedal (check price Now) and Drummer: another great looper pedal with a drummer.

 NUX Loop Core (check price Now): a great and modern looper by NUX that is capable of storing several hours of loops.
Video Reviews
To have a better idea of the Vox Lil Looper functionality, take a look at the following video demo of the pedal possibilities:
The following videos shows some of the possibilities for creating music with the Vox Lil:
Finally, see an example of using the pedal to create a song live:
Other Reviews