The Leo Jaymz Single Cut Curved Top Electric Guitar is a true testament to the artistry and dedication that go into creating a musical instrument. With its exquisite design, impeccable construction, and a sound that resonates with power and clarity, this guitar is a must-have for any serious guitarist or collector.
Aesthetics: A Visual Delight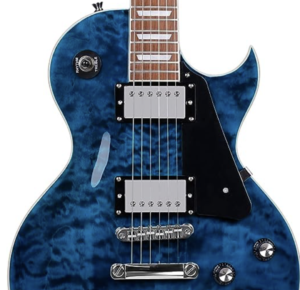 One of the first things that will catch your eye about this guitar is its stunning appearance. The Black Tea finish, combined with the maple top and mahogany body, gives it a classic and elegant look. The high level of craftsmanship is evident in the clean and bright paintwork, which adds a touch of sophistication to the instrument.
The Single Cut Curved Top design is reminiscent of the iconic Les Paul style, known for its timeless appeal and ergonomic playability. The high-quality materials used in its construction not only enhance its visual appeal but also contribute to its exceptional sound quality.
Also Read:
LyxPro 39" SB Series Electric Guitar Review
MOOER Prime P1 Guitar Multi-Effects Processor Review
MOOER GE100 Multi-effects Guitar Processor Pedal Review
Schecter Hellraiser C-1 Electric Guitar Review
Ibanez S Series: Best Electric Guitar Review
Craftsmanship: Quality at Its Best
Leo Jaymz takes craftsmanship seriously, and it shows in every aspect of this guitar. Unlike some guitars that use multiple pieces of wood glued together for the neck, Leo Jaymz has opted for a superior mahogany neck made from a single piece of wood. This not only enhances the conductivity of sound but also significantly reduces the chances of neck distortion and deformation over time. It's a testament to the brand's commitment to longevity and playability.
The inclusion of original Grover machine heads ensures that tuning is fast and accurate, a crucial factor for any guitarist. The rosewood fingerboard with 22 hand-polished frets adds to the overall playability and comfort of the instrument.
Sound: Power and Versatility
At the heart of this guitar's sonic prowess is its Humbucker pickup configuration. Humbuckers are known for their ability to deliver a strong, warm, and noise-resistant signal, making them a popular choice for rock and blues players. The Leo Jaymz Single Cut Curved Top Electric Guitar is no exception, offering a wide range of tones from clean and smooth to gritty and powerful.
The guitar's tonal versatility is further enhanced by its synthetic bone nut and a nut width of 1.69 inches (42.85mm). These features ensure that the guitar delivers the resonance and sustain that are characteristic of high-quality instruments.
Models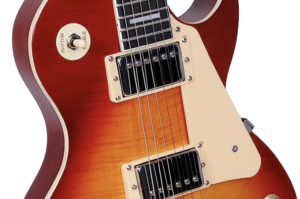 Several models are available, among them the following:
Leo Jaymz 39" Electric Guitar Les Paul Style.: Features:
Mahogany Body and Neck

Curved top Exquisite Flame Maple Veneer

Newly upgraded Alnico V Pickups

Powerful and Pure Sound
Similar Guitars
Finding electric guitars similar to Leo Jaymz models may depend on the specific features and style you're looking for. Leo Jaymz guitars, based on the information you provided earlier, are often Les Paul-style electric guitars with various finishes, quality materials, and Humbucker pickups. Here are some well-known electric guitar brands and models that offer similar features and styles:
Epiphone Les Paul Standard: Epiphone, a subsidiary of Gibson, offers Les Paul-style guitars at various price points. The Epiphone Les Paul Standard is a popular choice known for its affordability and Les Paul design.
Gibson Les Paul Standard: The Gibson Les Paul Standard is the iconic original Les Paul model. These guitars are renowned for their craftsmanship, premium materials, and versatile tonal capabilities. They are often considered top-tier instruments.
PRS SE Standard 24: The PRS SE Standard 24 by Paul Reed Smith Guitars offers a double-cutaway design and comes in various finishes. It's known for its comfortable playability and versatile pickup configuration.
Ibanez AR Series: Ibanez offers a range of electric guitars, and their AR series often features single-cutaway body shapes and versatile electronics. These guitars are known for their playability and sleek designs.
ESP LTD EC Series: ESP's LTD EC Series is known for its Les Paul-style guitars with a variety of finishes, active pickups, and durable build quality. These guitars are popular among metal and hard rock players.
Schecter Solo-II: Schecter Guitars offers Les Paul-inspired models like the Solo-II. These guitars often feature high-output pickups and modern design elements.
Heritage H-150: Heritage Guitars is known for producing high-quality, handcrafted guitars in the USA. The Heritage H-150 is a Les Paul-style guitar reminiscent of the original Gibson designs.
PRS SE 245: If you're looking for a single-cutaway guitar with a warm and expressive tone, the PRS SE 245 is worth considering. It offers a slightly different take on the traditional Les Paul-style guitar.
Gretsch Electromatic G5420T: For players who appreciate vintage aesthetics and a unique sound, Gretsch Electromatic guitars offer a distinct option with their hollow and semi-hollow body designs.
Fender Telecaster and Stratocaster: While not Les Paul-style guitars, Fender's Telecaster and Stratocaster models are iconic electric guitars with their own unique characteristics, known for their versatile tones and playability.
Conclusion
In the Leo Jaymz Single Cut Curved Top Electric Guitar, you'll find a blend of artistry, craftsmanship, and sonic excellence. Whether you're a professional guitarist looking for a reliable workhorse or a collector seeking an instrument of timeless beauty, this guitar is a worthy choice.
With its elegant design, impeccable construction, and a sound that's nothing short of exceptional, this Leo Jaymz guitar is sure to inspire and delight musicians for years to come. It's a testament to the brand's dedication to creating instruments that are not only beautiful but also a joy to play. In the world of electric guitars, the Leo Jaymz Single Cut Curved Top Electric Guitar stands as a masterpiece of craftsmanship and musicality.