The Gibson Les Paul Traditional is a true icon in the world of electric guitars.
Revered by musicians of all genres, this instrument has a rich history and a reputation for delivering unparalleled tone, playability, and craftsmanship.
As a flagship model in Gibson's lineup, the Les Paul Traditional remains a top choice for professional guitarists and enthusiasts alike.
A Classic Design with Timeless Appeal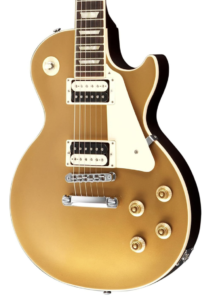 The Les Paul Traditional retains the iconic design elements that have made the Les Paul a legendary guitar.
With its single-cutaway solid body, carved maple top, and mahogany back, the Traditional's construction contributes to its rich and warm tone.
The guitar's deep-set glued-in neck enhances sustain and resonance, while its classic 24.75-inch scale length and medium "C" profile neck provide a comfortable and familiar playing experience.
Versatile Pickups
The Gibson Les Paul Traditional comes equipped with a set of high-quality pickups and electronics that play a crucial role in shaping its distinctive tone and versatility. Let's dive deeper into the pickups and electronics found on this iconic instrument:
The Les Paul Traditional typically features two humbucking pickups, which are known for their noise-canceling properties and robust tone. These pickups are designed to capture the vibrations of the strings and convert them into electrical signals that are then sent to the amplifier.
'57 Classic: The '57 Classic humbucker is a hallmark of the Les Paul Traditional's tone. Inspired by the original PAF (Patent Applied For) pickups of the late 1950s, the '57 Classic is known for its vintage warmth and clarity. It delivers a balanced frequency response with sweet, singing highs and rich, creamy mids, making it ideal for classic rock, blues, and jazz styles.
'57 Classic Plus: The '57 Classic Plus is often found in the bridge position of the Les Paul Traditional. It is similar to the '57 Classic but slightly overwound, providing a bit more output and a touch more bite. This pickup adds extra power and punch to your lead tones, making it perfect for rock and hard rock styles.
Check Les Paul Price on Amazon!
Also Read:
Gibson Mod Shop: 15 Gibson Mods for Customization
Best Guitar for Blues: 10 Great Instruments
Guitar Headstock: An Iconic Musical Signature
Best Guitar Chair: Finding Comfort
Les Paul Electronics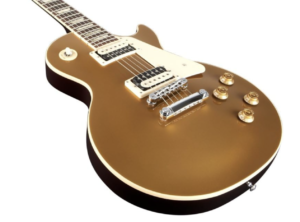 The Les Paul Traditional's electronics are simple yet effective, allowing players to easily control the guitar's volume and tone for each pickup. The layout consists of:
Volume Controls: The guitar has two individual volume knobs, one for each pickup. This setup allows you to adjust the output level of each pickup independently. Rolling back the volume knob on one pickup can yield cleaner and more dynamic tones, while cranking it up enhances the overall output and drive.
Tone Controls: Similarly, the Les Paul Traditional features two separate tone knobs, one for each pickup. The tone controls affect the high-end frequencies of the pickups, allowing you to sculpt the overall tonal character. Lowering the tone knob can soften the sound, while raising it adds brightness and sparkle.
3-Way Pickup Selector Switch: Positioned near the volume and tone controls, the three-way toggle switch enables you to choose between using the neck pickup, the bridge pickup, or both simultaneously. This switch provides flexibility in selecting different tonal combinations, offering everything from warm and mellow neck pickup sounds to bright and biting bridge pickup tones.
Time-Honored Construction Techniques

The construction techniques used in crafting a Gibson Les Paul are crucial in shaping the guitar's tone, playability, and overall quality. Gibson's traditional methods have remained relatively consistent over the years, resulting in the iconic Les Paul design loved by countless musicians. Let's explore the key construction techniques employed in making a Les Paul:
Solid Mahogany Body: The Les Paul's body is typically crafted from a single piece of mahogany, which is known for its warm and resonant tonal properties. The solid mahogany body contributes to the guitar's sustain and depth, providing a solid foundation for the other components.
Maple Top: Many Les Paul models feature a maple top, which is a carved piece of maple wood placed on top of the mahogany body. The maple top not only adds aesthetic appeal but also contributes to the guitar's brightness and clarity. The combination of mahogany and maple creates the legendary "Les Paul tone."
Set Neck Construction: Unlike bolt-on necks, Les Paul guitars have a "set neck" construction, where the neck is glued into the body. This enhances sustain and resonance, as there is a more direct connection between the neck and body. The neck joint is typically located at the 16th fret, allowing easy access to the higher frets.
Mahogany Neck: The neck of a Les Paul is typically made from mahogany, matching the body wood. Mahogany offers a stable and durable neck that complements the guitar's overall tonal character.
Rosewood Fingerboard: Most Les Paul models feature a rosewood fingerboard, providing a smooth playing surface that is both comfortable and responsive. The fingerboard is usually adorned with inlays, such as trapezoids or blocks, adding to the guitar's classic appearance.
Trapezoid Inlays: The fingerboard of the Les Paul is typically adorned with trapezoid inlays, adding an elegant touch to the guitar's appearance.
Plek System: Gibson uses the Plek system, which is an advanced computer-controlled fret dressing and setup process. This ensures precise fret leveling and optimal playability for every Les Paul.
Traditional Hardware: Gibson Les Pauls often feature high-quality hardware, such as tune-o-matic bridges and stopbar tailpieces, providing stability and sustain. The guitars also use high-quality tuners for reliable and precise tuning.
Nitrocellulose Finish: Gibson Les Pauls are traditionally finished with nitrocellulose lacquer, a thin and breathable finish that allows the wood to resonate freely. This finish ages beautifully over time, adding character to the instrument.
Hand-Craftsmanship: Gibson's Les Paul guitars are known for their attention to detail and craftsmanship. Many aspects of the guitar are still hand-finished, contributing to their iconic quality and character.
Classic Looks, Modern Playability

While the Les Paul Traditional stays true to its vintage roots, it also incorporates some modern features to meet the demands of contemporary players. Gibson's Slim Taper neck profile offers a comfortable and fast-playing experience, allowing for effortless chord changes and speedy solos. The guitar's bound fingerboard adds a touch of elegance, and its fretboard radius provides excellent playability across the entire neck.
A Sound That Defines Generations
The Gibson Les Paul Traditional has been a favored instrument for numerous guitarists across generations and genres. From the bluesy licks of Jimmy Page to the soaring solos of Slash, the Les Paul Traditional's unmistakable tone has left an indelible mark on music history. Its ability to produce creamy, sustaining notes and searing lead tones has made it an essential tool for any serious guitarist.
Conclusion
The Gibson Les Paul Traditional embodies everything that has made the Les Paul a symbol of excellence in the guitar world. With its iconic design, versatile pickups, and timeless construction, the Les Paul Traditional is a true workhorse that can handle any musical challenge.