A drum machine may be the best friend of a guitar player: you can practice, compose tunes, and improve your rhythm. All the this with the help of a simple drum machine. In this article you'll see how the Flamma FS21 Drum Machine can help you.
The Flamma FS21 is a looper/drum machine combination, that provides output at high quality. It uses 44.1kHz 24bit high-quality sound output that will make your results appear more professional.
Features of the FS21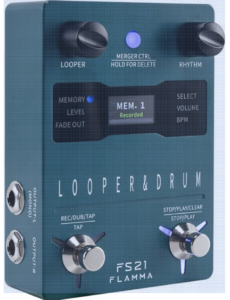 One important feature is the amount of recording time available in this little device!
You can record more than 2h of loops. That is a lot of capacity for a loop machine. This memory is divided into 40 slots of 4 minutes each, so you can easily create loops for all your songs.
In terms of drum machine, you will have the availability of 100 grooves. They are selected from 10 music styles. This will give you enough possibilities to cover most popular styles of music.
Read Also:
Nux Loop Core Pedal: The Looper To Rule All
Guitar Synthesizer: BOSS SY-1 Pedal
9 Best Vocal Effects Pedals for 2022
Mooer E7: Polyphonic Guitar Synth Effects Pedal Review
Essential Guitar Pedals You Need to Have
Looping with BOSS RC-3 Loop Station
Controlling the Drum Machine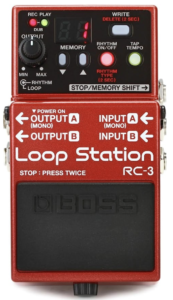 To control this handy drummer, you can use the standard buttons (operated manually). Another option is the use of an external foot switch, which can be bought separately. This combination will make it much easier to achieve the effects you need from the looper and drum machine.
Control of the unit can also happen from your computer. Thanks to the USB connection, you can hook up to your own computer and control the device. You can also import patches and other sound files.
The FS21 has a simple but modern LED indicator that can display information about the current settings and memory slots.
Summary of FS21 Drum Machine Features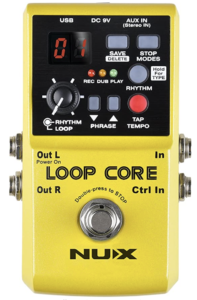 Here is a quick summary of the features available in this unit
44.1kHz 24bit high-quality looper and drum machine.

Up to 4 minutes of recording time per track, 40 preset slots,160 minutes total recording capacity.

100 different drum grooves from 10 unique music styles. 10 types of metronome settings.

EXT CTRL function supports external footswitch control (purchased· separately)

Supports import/export recording via USB. It is not compatible with the M1 chip of Mac.

The detail of the recording is displayed by the progress bar on the screen.

Separate footswitch for controlling looper and drum machine.

Recording saved automatically, even after FS21 is powered off.

Maximum recording time of each track: 4minutes

Maximum number of recording tracks in each slot: No limitation.
Similar Products
There are a few pedals that offer similar features. Here is a selection of them:
Looping with BOSS RC-3 Loop Station
Nux Loop Core Pedal: The Looper To Rule All
Mooer E7: Polyphonic Guitar Synth Effects Pedal Review
Video Demonstration
Here is a vide that demonstrate the main features of this guitar pedal: