In this article, you'll find 7 great that products that you can use to protect and clean your guitar in daily situations.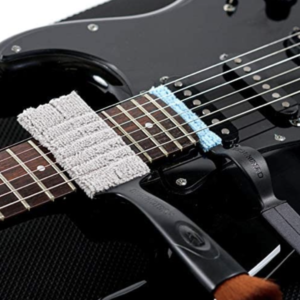 This is a dust cleaner that works on all types of string instruments, such as guitar, bass, violin, and others.
It also works on other instruments, as well as for amps, drums, keyboards. You can even use it to clean pedals and computers.
This nice product clans well all dust and grime from your instrument. It's design helps you to clean even on hard to reach areas.
This is a well designed, all-in-one tool. Moreover, you can use it even dry, with no cleaning solution.
The daily use of this cleaner can help you to prolongs the life of your strings. If also help to preserves the tone of strings for much longer.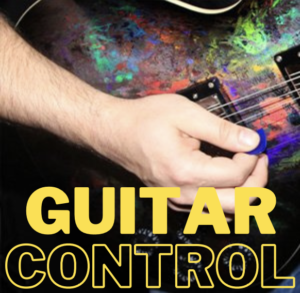 The Nomad cleaner gets dirty that accumulates on items such as between pick-ups and under floating bridges, between floating pick guards. It can also clear strings, the guitar headstock, and more.
Check Nomad Price on Amazon Now!
Read Also:
Guitar Humidifiers: Hot Buying Secrets
Guitar Intonation: What it is and How to Fix
Guitar Neck Shims: Learn the Secrets
How to Quickly Clean the Guitar Fretboard
How to Hold a Guitar: Professional Tips and Tricks
This Fender kit is a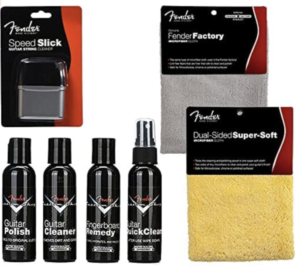 four-step process to clean all your instruments. The kit comes with one bottle of each Fender Custom Shop Guitar Care product:
Fender cleaner,

Fender polish,

Fender quick clean,

and Fender fingerboard remedy.
The cleaners in this kit are made of high-grade carnauba formulations, which is a natural ingredient. They also contain no silicones, resins, polymers, bonding agents or alcohol. This helps reduce the aggression to the wood.
Through the careful used of this product, fingerprinting and streaking on black finishes is greatly reduced. You will also avoid the build-up of dirty and other substances that attack the instrument.
Using the Fender Speed Slick guitar string cleaner is an excellent way to prolongs the useful life of your string.
The product also comes with a simple and effective applicator, which is very easy to use.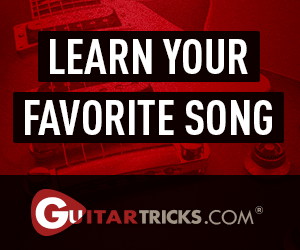 To complete the package, the kit also comes with a genuine Fender microfiber cloth, along with a Fender dual-sided super-soft microfiber cloth.
Each of these microfiber cloth are high quality, and feature two sides for polishing and cleaning. You will be able to clean your instrument with high precision.
The following items are included in the package:
Custom shop Deluxe Guitar Care System (4 bottles),

Speed Slick Guitar String Cleaner,

Super-Soft Dual-Sided Microfiber Cloth,

Fender Factory Microfiber Cloth.
Check Super Care Price on Amazon Now!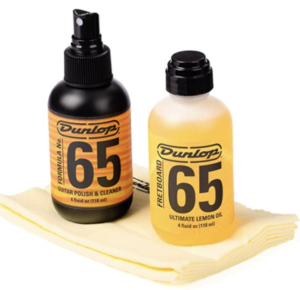 In this cleaning package, you'll find Dunlop's two most popular maintenance products in one box.
These cleaners are:
Fretboard 65 Ultimate Lemon Oil and
Formula 65 Polish.
Players and techs worldwide select these products daily to keep their instruments in great shape.
So, it seems like and great idea when they decided to sell these two products in a single package.
Formula 65 Polish has quickly become an industry standard cleaner. It can be used daily because it creates a genuine, no-residue shine. You can apply it even in a hurry, and it fosters the proper chemical balance to preserve any finish.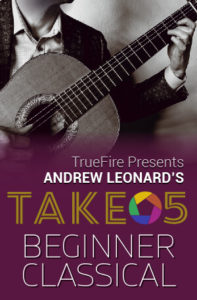 Fretboard 65 Ultimate Lemon Oil is a complementary product. It is used to clean away grime dirty that accumulated on the fingerboard. It can be used to return your fretboard to its original condition.
Both products leave an invisible sealant that woks against stains and moisture.
This kit also comes complete, with two polish cloths (one for each product).
Check Jim Dunlop Price on Amazon Now!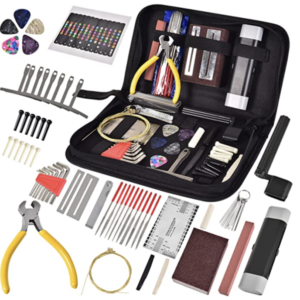 If you have a guitar, there are many situations when you need small tools to cut, polish, fix, and do others small tasks.
This complete guitar repair and cleaning kit comes with 72 guitar repair tools. It include items such as:
bridge pins,

fret crowning luthier files,

guitar picks,

guitar strings,

bridge nuts saddles,

string spreader,

string action ruler,

grinding stone,

guitar fretboard sticker,

storage bag.
With this kit, you have everything you need to make the necessary measurements and adjustments on your acoustic or electric guitar. It is also useful for bass, banjo, mandolin, and other similar instruments.
You find available items used by luthiers, string Instruments users, guitar players, as well as other DIY tools.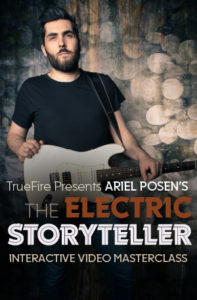 Some of these tools are useful to clean string instruments, as well as for maintaining and repairing.
This guitar repair kit can be used for tasks such as changing string, setting the tone, adjusting action, or check the string height.
In this package, you'll find a compact musician's maintenance repair kit. It is an ideal gift idea for beginners or even intermediate level guitar players. Yo can also put each accessory with a small individual package and give different gifts to your musician friends.
Not only this guitar kit is designed to help complete the most common guitar repairs and adjustments. It is also easy to carry and store.
Check Repair Kit Price on Amazon Now!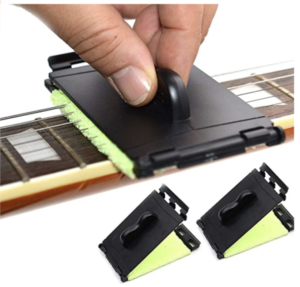 The Saphue guitar string cleaner was designed to keep the guitar strings clean and increase their lifespan.
This is a tool that cleans all-round the strings and frets. It also helps preserving the tone of guitar strings, while at the same time maintaining the board original tone.
The Saphue comes with an ergonomic handle: a handy gadget which cleans your strings and fretboard.
You can use this tool to clean guitar and bass strings anywhere. The kit is portable, easy to use, lightweight and practical.
You can conveniently carry this out with your guitar. You can easily put this tool in your gig bag and reach it when wanted. There are no extra tools required for its good cleaning performance.
The Saphue is made of durable microfiber material. You will be amazed by its excellent cleaning effect. No need to ever worry again about dust accumulating on the guitar again.
With this tool, you can perform a 360 degree clean on your guitar or bass. This is more efficient and saves you time.
Moreover, the superfine fiber mat is easy to clean and wash. It is great for long-term use, with low maintenance costs.
Check Saphue Price on Amazon Now!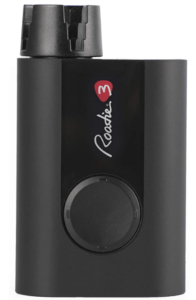 The Roadie 3 is a new product that integrates 3 utilities that will make your life much easier: a tuner, a metronome, and a string winder.
This product works well not just for guitars, but for most string instruments. This includes:
electric guitar,

acoustic and classical guitar (with nylon strings),

Guitars with 6, 7 and 12-strings,

Ukuleles,

Mandolins,

Banjos,

Lap steel guitars,

bouzouki,

mountain dulcimer,

cigar box guitar,

and much more.
The Roadie 3 makes is much faster to care about your guitar. It automatically tunes your instrument in under 30 seconds, using the internal motor and guitar tuner.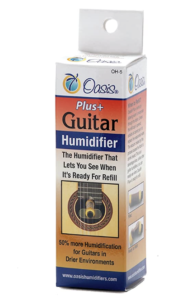 The process is simple: place Roadie on the peg, pluck the string, and the machine will complete the process automatically. The device has advanced features, such as next-generation vibration detection. This allows you to tune your guitar even in noisy environments.
That's not all: with this product you can use alternate tunings (a library of 150+ such tunings is available).
You're also free to customize these tuning settings. For example, change the A440 reference pitch, tune with a capo on, or create custom tunings.
You can also change between "Fast Tuning" and "High Accuracy" settings for better results.
This gadget also has built-in vibration or beep metronome. This way you can set the tempo and feel the beat while playing.
If you feel that you you need new strings, you can perform restring and tuning in a single step! With this feature, changing strings is now a little less tedious. You can also quickly wind your new strings and directly tune them to perfection in one single step.
Here are some additional features:
FULL COLOR, HIGH RESOLUTION, larger display screen.

COMPACT DESIGN and ergonomic grip for a comfortable tuning process.

LONG LASTING CHARGE: The Roadie can last as long as 1 month on a single charge and is easily recharged with its USB-C cable (included in the box).
Check Roadie 3 Price on Amazon Now!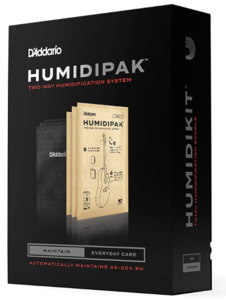 This great humidity control tool is the first two-way system is able to maintain a constant 45% to 50% relative humidity level for your instrument.
Using this package helps you to protect your instrument against warping, cracks and other damage caused by low humidity.
The great feature of this tool is that it reduces the need for manual adjustments due to season changes. Other issues that interfere with humidity such as geographic changes, raise in temperature, as well as other factors.
Using the Himidipak, you basically eliminate the guesswork and anxiety of maintaining a proper humid level for your guitar or other instrument.
Also read this article: Guitar Humidifiers: Hot Buying Secrets.
Check Humidipak Price on Amazon Now!