Taking care of your guitar is a task that intimidates beginning players. In this article, you'll see a practical example of how to change your guitar strings.
The strings are one of the most delicate parts of your guitar. They are not only very flexible, but also work under big tension, since they are the primary responsible for producing the guitar sound.
Changing your guitar strings from time to time is a necessity. Over time, the strings may suffer corrosion, and stop sounding as good as when they were first installed.
That's why a good player will take care of their strings and update them as needed.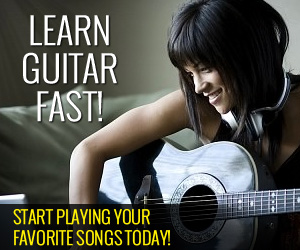 Also Read:
Guitar String Notes: Easily Finding Them
How to play blues guitar in 3 steps
Easy Steps to Change Guitar Strings
Performing this task is not so difficult as some people believe.
You just need to be careful, and use the right steps to complete the process.
Since this is a very easy to task to demonstrate, a decided to include a nice video that explains the simple process of changing strings.
Defining Your Personal Guitar Routine
If you want to learn more about creating your daily learning routine, I have prepared an  Easy Mastering Guitar Routine Secret Guide that you can use to improve your playing skills, following the learning method that I discuss above.
You can use this guide to practice all the skills you need to improve your guitar playing. This guide also includes exercises, and everything you need to become a better musician.
BONUS: Buy this product today, and receive as bonus an introductory course to the guitar, including simple chords, harmony, solo, and music notation.
BUY NOW FOR ONLY $5 (80% OFF SALE)