The BOSS Katana Amp 50 MkII is the latest model of the well-known Katana series of amps created by  BOSS's, and one of the most successful products used by guitar players worldwide.
The BOSS Katana can be used as a powerful tool in the hands of any electric or acoustic player.
The Basics
First, the raw power of a hundred-watt output section makes this a very serious amp, even when comparing to larger units.
But it also has a well designed and fit 12″ speaker, which you can use to amplify not only your instrument, but also a set of existing modelers and preamps connected to the guitar.
The BOSS Katana also empowers you to build new tones from the ground up, resulting in a fantastic all-in-one solution. You can use this setup not only to practice, but to take on your gig.
This amp great versatility in emulating other cabs makes it a necessary item for serious guitar players. Not only it can be programmed and setup with the desired sound configurations, but you can also access it though pedals, which can be used to change effects or distortion levels.
The new model of the Katana amp comes with 60 new BOSS exclusive effects. You can access these effects from the BOSS Tone Studio Editor, an app that can help you crate your own sound using the large database of amp presets.
A Library of Useful Sound Effects
Using the BOSS Katana is equivalent to have the power of a large pedalboard, fitting right inside your amp.
The amp comes loaded from factory with the ability to use up to five simultaneous effect groups. These effects can be groups as:
Independent Booster,
Sound Modulation,
FX Sets,
Delay, and
Reverb
Each of these effects also have up to three variations in each. This results of up to 15 completely ready effects that you choose from at any moment. To chose effects, you can either use the front panel, or use a separate pedal (not included) to control the effects unit.
But once you start playing with the separate application (BOSS Tone Studio), you will be able to get even more from the amp.
For example, you customize each sections, and load them with up to 60 different effects. It is just liking having your own guitar modeling processor inside the amp.
You not only change each setting, but also change the order in which these effects are applied. You can use up to four different chains to organize your effects.
A Large Set of Sounds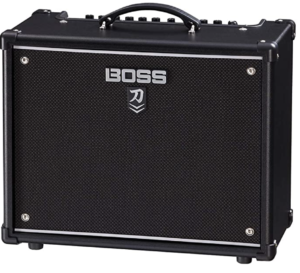 The new version of the Katana Amp still has the same features that made it a well known product among guitar players. However, if you liked the previous model, you'll like this one even more.
The secret of the BOSS Katana is to deliver organic, vintage tones that can be easily accessed. The amp also has setups that are optimized for acoustic guitars.
But the new version has several sound effect variations, which results in a wider palette os tones, from which you can build your signature sound.
Sound Quality
Backed by BOSS's Tube Logic approach, Katana MkII delivers the authentic output distortion characteristics of genuine tube amplifiers, with the sound and feel becoming richer and more responsive as you turn up the volume.
Unlike that classic tube amp, Katana MkII's variable Power Control makes it easy to find the sweet spot, without getting fired from the gig or kicked out of the house. Just turn down the overall volume as needed and  enjoy an inspiring, cranked-amp sound. This works anywhere, from your garage to a large stage.
Saving Custom Setups on the 50-MkII
Not only you create killing sound using you Katana Amp, but you also have the ability to save the settings in just a few button clicks.
You can store you favorite effects and setups in a Tone Setting memory location. It can be instantly recalled later. The process is very simple. When you're done with you sound combination, just hold a memory button for a few seconds to store that combination.
There are four tone settings that can be used at any time, at the click of a button. If you have an external foot switch (not included), you can also use it to reload specific settings.
Enhanced Sounds with BOSS Tone Studio
These features are available directly from the Amp, but you can get much more using the accompanying app, the BOSS Tone Studio.
The BOSS Tone Studio has an improved interface to rod with the Katana Amp. The interface has been refreshed, several of its parameters grouped in a more streamlined way.
You will also find a dedicated category for Pedal FX. Among other things, this makes it easy to assign wah and pedal bend effects to an expression pedal (sold separately). If you have configurations and patches from previous generations of the product, you can also import these configurations into the Katana MkII.
Learning More About Guitars
If you want to learn more about guitar equipment, you should get our free complete guitar course. In these guitar lessons, you'll learn about:
To get your free copy, just click here and request your guitar course.