Playing guitar is a great exercise and it is an excellent, enriching past time. Therefore, in a sense, playing guitar can already be views as a nice game.
However, in the world of the internet and game consoles, it is not a surprise that everybody is interested in using games as another way to improve their guitar playing skills. Computer games are more popular than ever, and kids love to spend time with games. Using this to your benefit as a guitar player may be just another good opportunity to learn the guitar.
Guitar Playing Games
The good news is that there are already many options to connect your game console to your guitar playing needs. One of the most successful entries in this list of games is Guitar Hero. Based on the idea of practicing with your favorite rock band, Guitar Hero has became an obsession for many. This is especially true for people who never had the opportunity to learn the real instrument and always wanted to have an easy introduction to the art of guitar playing.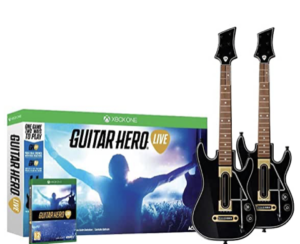 Although Guitar Hero is by far the best known game involving the guitar, it is not the only one. It was just the first of many successful games that came later. Included in this list you will find games such as:
Jam sessions: a game originally released for the Nintendo DS console, in Japan. Later Nintendo introduced this game to the US and Europe.
Rock Band: another take on gaming and music playing, this game simulates a band, and components need to play as good as possible to achieve points. Guitar is one of the instruments. The producer Harmonix released this game for Xbox 360, PlayStation, and other consoles.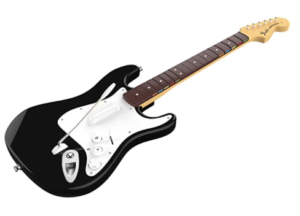 Rock Band has become a franchise, with many releases for different bands and instruments. Here are a few of them:
Rock Band Blitz
Green Day Rock Band
Rock Band Lego
Rock Band The Beatles
AC/DC Live Rock Band
Rock Band Classic Rock
Also Rock Band 2
Rock Band 3
Rock Band 4
And many more.

Rocksmith is another take on gaming for guitar players. It is a game for Xbox 360 and PlayStation 3, released by Ubisoft. Unlike Guitar Hero, which uses a toy guitar, you can really play this game with an actual guitar. This makes it even better for guitar players who want to improve their skills.
Ultimate band is a game for Nintendo DS that simulates a rock band. This game seems to  target kids of younger ages.
Guitar Praise: this is another guitar/band playing game. Digital Praise is the publisher, and you can use it with USB controllers only.
Conclusion
Most of these games allow players to learn basics of the guitar. These games also serve as a nice way to introduce newcomers to the world of music. Therefore, even if they don't help directly in learning to play guitar, these games can make kids interested in learning, which is a good thing.
If you want to become acquainted with the guitar, such games are a great place to start, because they allow you to develop basic skills such as listening, playing in a group, and having rhythm.
Learning More About the Guitar
If you are interested in learning more about the guitar, a good starting point is the free guitar course (in PDF format) that we have developed.
You just need to visit this page and request your copy of a complete guitar course, that will be sent directly to your email.