Adult Guitar Lessons Guitar Tricks Free Gift Rock Guitar Guitar Songs Killer Guitar Control
Here is a collection with the absolute best tips to master guitar lessons for adults, and to learn guitar at any age:
Learning the Guitar at Any Age
Taking guitar lessons for adults is a little different compared to the same process for young learners. This is because adults have a busy schedule and several other responsibilities. Unlike kids, they don't have the whole day to dedicate themselves to playing guitar.
Despite this problem, there are many things that you can do practice the guitar, even if you have a day job and a busy schedule. In this article, I give several ideas and resources that you can use to learn the guitar as an adult on your free time.
Having a Positive Attitude When Taking Guitar Lessons For Adults
The first step is to have good mental attitude. It is well known that children and teenagers have an easy way to learn new things, including musical instruments. After all, when you're young it seems that you're always open to learn new experiences.
However, many adults share the goal of learning a musical instrument such as the guitar or the piano. Learning an instrument like the guitar, may seem difficult for a lot people. But in reality, it is not so complicated as some people imagine. In fact, it is entirely doable with a little effort and passion.
---
Guitar: an Ideal Instrument for Busy Adults
After all, the guitar is an ideal instrument to learn for adults that have a busy schedule. The guitar is portable, easy to learn, and can be used to play so many songs and rhythms, compared to other instruments. Even if you spend your whole day in a job or doing something else, you can still learn to play well the guitar. You just need to dedicate a few minutes per day and follow the right instructions.
As an adult, however, you have some advantages in learning an instrument. First of all, you have acquired better learning skills than a teenager. Also, you understand better how to prioritize your efforts to achieve a desired goal. Finally, you have more money to spend on tools and resources that can get you faster to your objectives.
Based on this, here are few tips for adults who want to become good guitar players.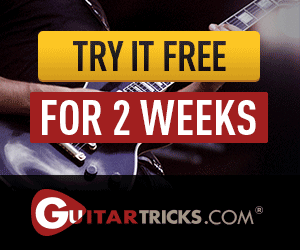 Hot Tip: You can minimize the time it takes to learn the guitar! You just need excellent material that will help you improve faster. Many of my students that were very happy with the daily study of lessons provided by Guitar Tricks. You can also check our pages on Guitar Tricks Free Gift.
Prioritizing Your Time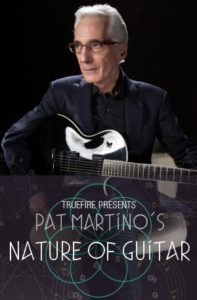 One of the problems for people who want to learn the guitar, or any other instrument, is how to prioritize their time. After all, there are so many new things that you need to learn. This includes theory, chords, solo, music reading, and the list goes on.
Many people also spend their time following outdated teaching methods, instead of using online methods that have been shown to improve your progress.
The recommendation of most guitar teachers is that you need to prioritize the areas where you want to make progress. And you need to change your focus only when you have made progress towards your goal of mastering guitar lessons for adults.
As a beginner, your focus should be divided into learning some music theory, and practicing easy material. Useful material includes popular songs with few chords, and rhythm playing. As you get more experienced, you can start moving your focus to playing some solo pieces. Then you can start learning some different music theory topics. This way, you can give priority to items that will better improve your guitar playing.

Quick Tip: If you have difficult maintaining a schedule of guitar lessons and studies, what you can do is to use a well-designed course. Choose a course that teaches you step by step the skills that you need to learn. You can get this with the Rock Guitar Mastery package, which has been created for students who want to follow a step by step strategy to achieve success as guitar players.
Playing Every Day
One of the simplest ways to get better at playing the guitar, at any age, it the consistency of playing daily. Notice that you don't need to do this for long hours. Even if you have just 20 minutes per day to spend, it still makes a difference.
Playing every day, you will be slowly getting used to the instrument and getting quickly over the barriers encountered by beginners. You will internalize the information you're receiving, making it easier to play every time.
The big advantage of continuous training is that you'll, without much effort, become a better player. You just need to have some time to spend daily on your goal.
My recommendation is to find a particular area, such as right hand exercises, and practice that topic every day for a few weeks. Then, do the same for another area in which you're trying to improve. Over time, this will make a noticeable difference in your playing abilities.
Making the Most of Guitar Lessons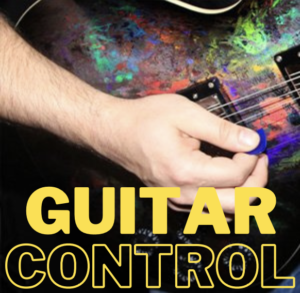 Another aspect of learning the guitar as an adult, is to make the most of your time when having lessons. If you have a personal music teacher you need to take the necessary time to invest in the lesson for each day, and regularly. The same is true if you study guitar lessons by yourself.
For adult students that have a personal teacher, you can use your daily time to go through the topics covered on your personal music lessons. This practice time will make your personal classes even more efficient. A music teacher can guide you through the best approach to improve your skills.
If you're learning the guitar by yourself, you can use your daily time to practice the guitar lesson you're currently studying. You can also practice previous exercises, or moving to another skill that needs to be acquired.
Anyway, as an adult student you need to take a more proactive strategy to improve your learning curve.

Extra tip: use an online resource to speed up your learning process. You can get online lessons that are easy and fun to follow. The Killer Guitar Control Secrets online method is one that I use with my students with great results!
Using a Quality Instrument During Your Lessons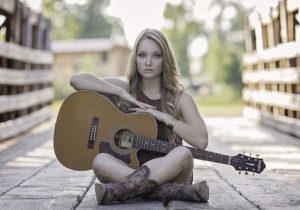 Another factor that is commonly overlooked by beginners is the quality of the instrument used for your lessons. When you start learning the guitar, it is important to have an instrument that is appropriate for a beginner. An instrument able to produce high quality notes with easy.
Some people make the mistake of using a cheap guitar when they first start. This is not a good tactic, because it is very important to use a good instrument when learning your first lessons.
As a general rule, you also don't need to buy the most expensive guitar. These guitar are expensive only because they're designed by a famous luthier, not because it is necessarily easy to play. I, particularly, look for quality instruments that are within my budget and never had any problems.
There are lots of quality instruments available at well known and popular stores such as Amazon or Sam Ash, which I have used frequently in the last few years to get guitars and equipment.
The best strategy is to look for a middle ground, where you get a guitar that is not the cheapest. But at the same time, make sure that everything works well and that you can get good tone from the guitar.
This puts the beginner guitar in the middle level of a few hundred dollars. More expensive options for electric guitars is also possible, but it all depends on how much money you can spend on a great guitar.

Hot Tip: If you want to learn the guitar, you can start right now with a free, online, complete guitar course for beginners and intermediate players. Just click here and request your free guitar course in PDF format (to be sent to your email).
Finding the Best Online Guitar Lessons For Adults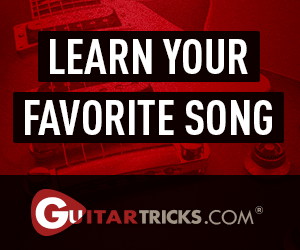 Having access to the best resources is a very important step in learning the guitar. If you use badly designed material, you'll be just wasting your time. This is an even bigger problem if you don't have much time to practice after work.
That's why I think it is great to have online resources for adults learning the guitar. Among the resources that I recommend to my students, I found that the Essential Guitar Songs package was created to fill this important need.
The creators of this online course have developed a complete musical instruction program that takes anyone from beginner to a high level of playing.

Pro Tip: If you have been struggling to find a good resource to play the guitar, I highly recommend the Essential Guitar Songs online course. Let me talk about what is contained in this online teaching system.
What can you expect from a good guitar course?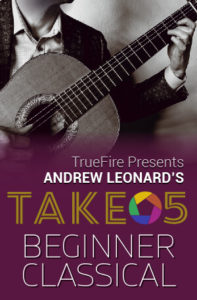 The content of an online course should be based on pedagogical methods that have been used by the best music schools around the world. This is the case of Zero to Hero.
But, more interestingly, it is a completely online system, so you don't need to go to a music school and you can learn in your free time, any time you want.
Here are benefits I found while using this online package with my students:
Fast and easy video lessons
The guitar lessons for adults start from scratch, but there is also more advanced material.
Over 100 lessons are provided, with material covering topics from beginner to intermediate.

Pro Tip: Another big advantage of this online learning package is that they provide unlimited one-on-one email coaching. This is a very useful feature, because most online material and books are provided without any kind of coaching. Thus, if you have problem with any part of the material, you can ask questions and have a quick return from the creators.
Learning Songs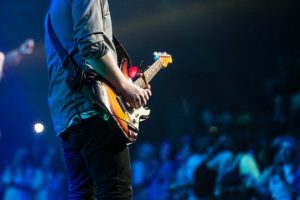 Like for any other instrument, creating a repertoire of songs is very important, especially when you're starting guitar lessons for adults. The nice thing about this guitar learning package is that they provide songs that are more interesting. These songs are adapted for adults, compared to material written for teenagers and children.
Of course, anyone may enjoy playing some of the best songs from Eric Clapton, Pink Floyd, Johnny Cash, Lynyrd Skynyrd, Joe Cocker, Paul Simon, The Blues Brothers, Chuck Berry, The Animals…
Another feature, in my opinion, is the emphasis in learning by "ear". It is very useful for players to develop your ear, so you're not stuck with repeating songs. Neither you depend on what you can find on music notation.
Every good musician needs to go beyond traditional music notation and also learn to play by ear. This include the following import skills:
Learning how to play songs from just listening to the recording.
Using shortcuts to identifying, and playing, any chord progression.
Technique to help form chords anywhere on the guitar without the need for chord charts.
Learning the most important scale "patterns" that help you with playing solos.

Hot Tip: Play all best guitar songs from the 60s now, using this incredible lesson package. It shows you step by step how to play the best songs of Jimmy Hendrix, Chuck Berry, Beatles, Stones, and much more. This great resource will help you master the best guitar songs of all times.
Learning To Play Songs Well
Using lessons packages you will learn sweet walking bassline melodies that takes your playing to the next level. You will also learn the fingerstyle "claw" technique will impress everyone.
Sweet alternative chord voicing gets your strumming to the pro zone before the course is done, and a Chet Atkins style technique to play the good old E major chord.
You can learn to play sweet sounding chords easily. And if you don't like pick? No problem. You can exactly how to use your fingers to get the job done.
Doubling a vocal line on your guitar sounds killer. You can use this one secret to make it sound like heaven. This way, you will become the life of the party when you bust out a rockin' tune. This is like a "cheat code" to playing chords and a melody at the same time.
You can also learn to mistake-proof your playing on the higher strings. And techniques like dampening is the key to making power chords sound tight. Here's exactly what you need to do.

Pro Tip: You can learn techniques like this, and more, using this fantastic package of 1970s guitar songs. You will learn to play with the greats like Tom Petty, Chet Atkins, Bill Withers, The Guess Who, and others.
Guitar Tricks (Free Gift)
Guitar tricks is a powerful learning package that has been developed with these educational features in mind. You can progress from beginner to advanced easily, using the video training and music notation.
Another useful feature of this online guitar teaching package is the availability of free and unlimited course updates. This is a great advantage of web based course. because you can access
This one is really important! Because this course is online, as a Full Access Premier Member your membership never expires. You will also have unlimited access to all the course updates, exercises, and improvements.
See more: Guitar Tricks Free Gift.
A Free Gift for You
I just created a online course in PDF format that you can use to start learning the guitar for free. Just submit your email and you'll receive this learning resource.